What is The Best Cat Food in 2020?

It is a question that does not have a single answer, because everything depends on the characteristics of our animal, the breed, age, sterilisation, physical symptoms, pathologies, etc …

In this article, we give you the information, so you know how to choose the best quality cat feed for every possible case. If what you are looking for is a feed for high-end cats and really good, read on …

In addition to this guide for cats made this 2020, we have also developed a similar one for dogs entitled: the best dog food 2020.

If you prefer to skip this article, you can directly consult our cat feed section.
1 – The best food for adult cats (without cereals):
Without a doubt, if what we want is to choose a feed for cats of the highest-end, a feed for demanding cats, we will opt for a feed without cereals, because it respects its nature better. Therefore, we consider that the best options are:
The truffle Il Tartufo – Adult Cat: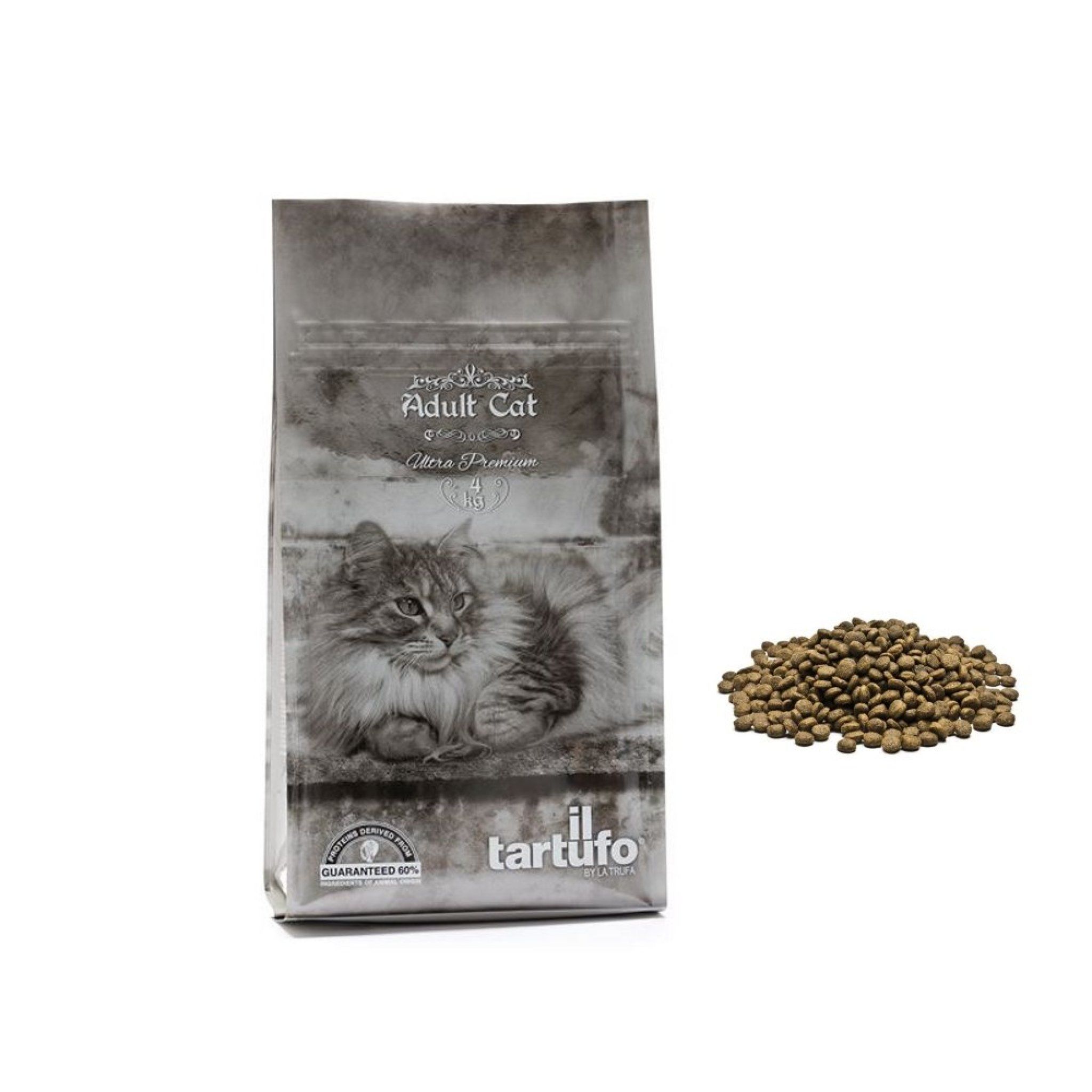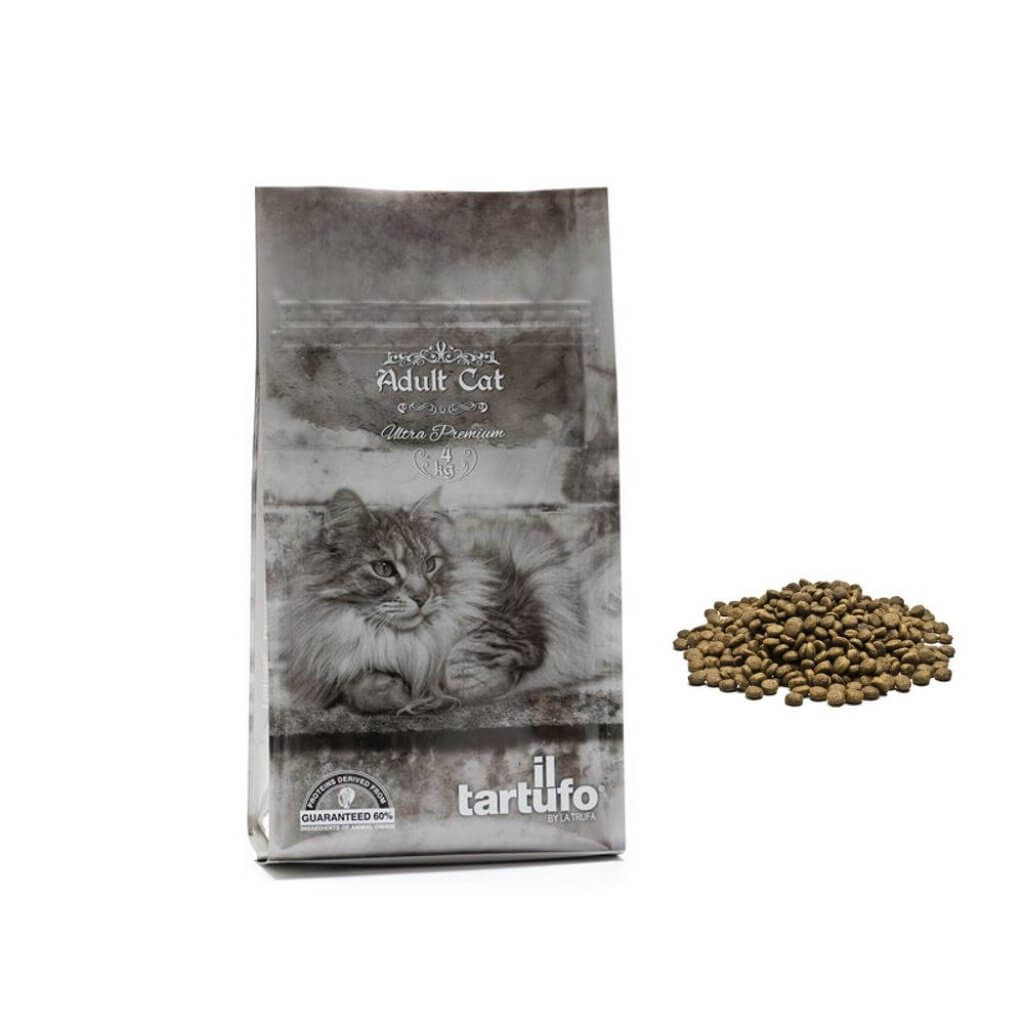 This cereal-free feed is formulated based on a large number and variety of meat and fish sources (60%), providing a tremendously broad spectrum of nutrients, which covers all the needs of the animal (Holistic), adding 40% of fruits, vegetables and vegetables of low GI.
Its composition gives it a great flavour and makes it strongly hypoallergenic since it does not contain cereals of any kind or gluten. It also includes additives that help control hairballs (HAIRBALL CONTROL), which has just been completed as one of the best cat feed on the market.
Do not be fooled by the dull colour of the packaging. It is the only negative we can say about this brand since, in addition to being excellent in quality, it is also in its extraordinary value for money.
True Instinct – High Meat: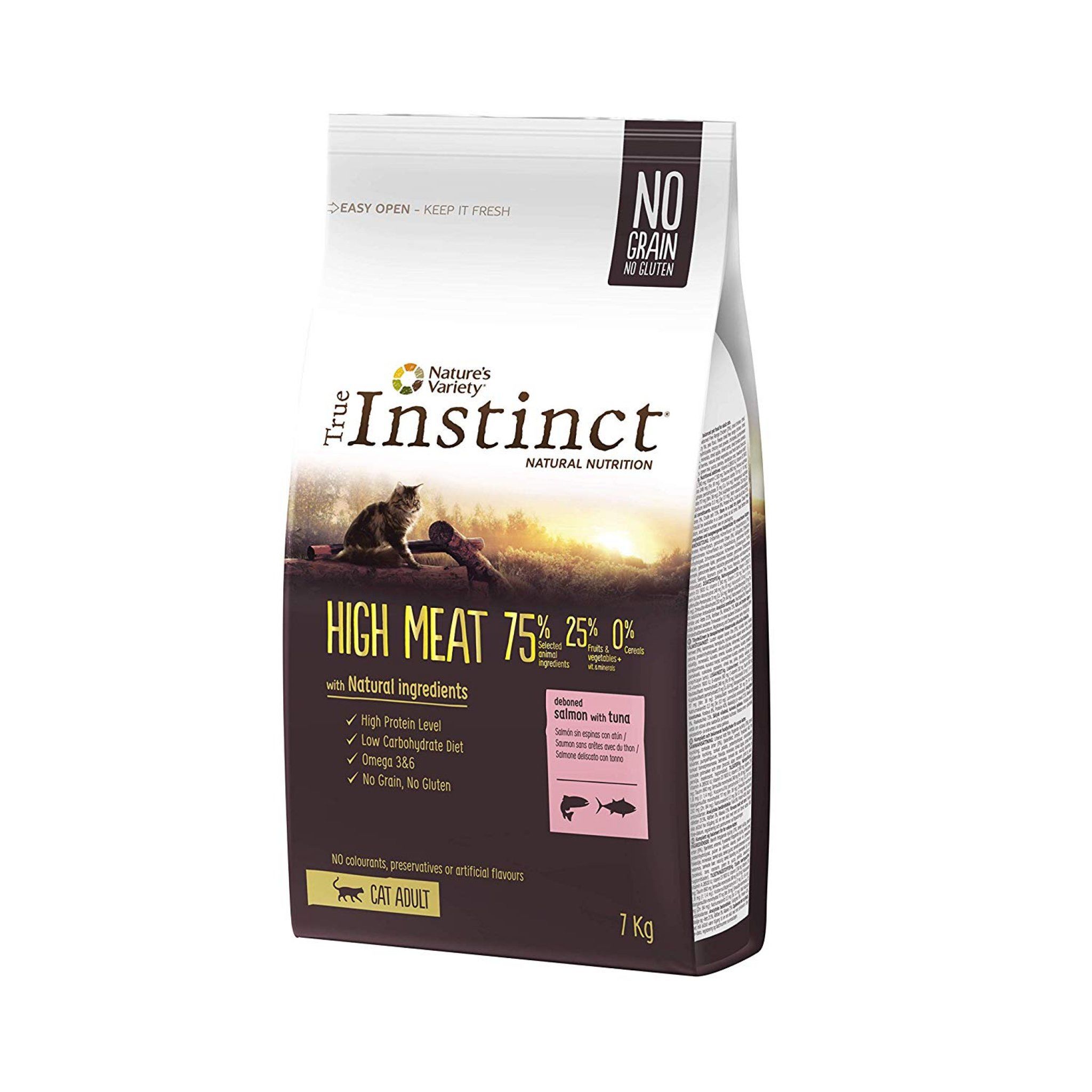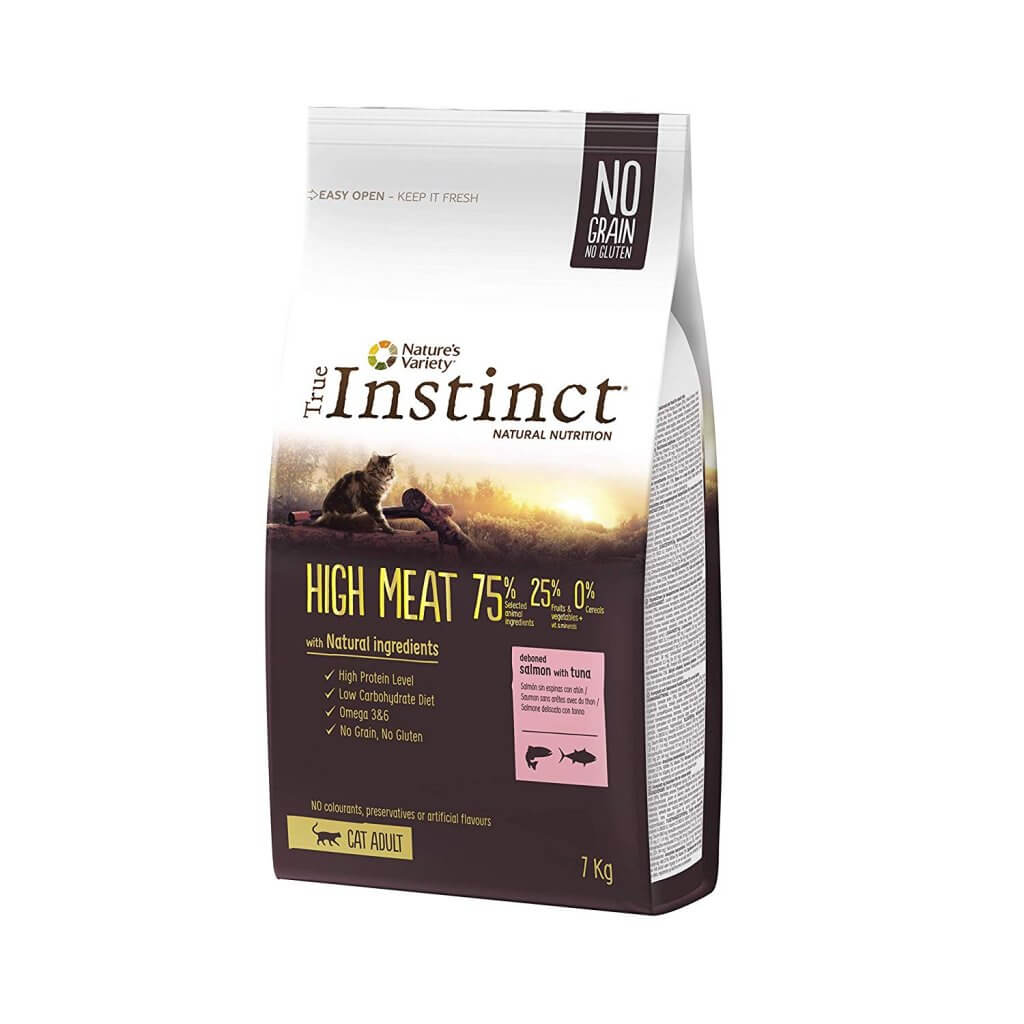 A feed without cereals or gluten, based on salmon, chicken and tuna (at a very high 75%). This product stands out above the others for its excellent flavour (you will notice it after a few shots in the way your cat goes to the food). It has a high level of antioxidants that contribute to its longevity and a strong and healthy immune system.
At the same level, you also have a variety of chicken: True Instinct – High Meat (Chicken).
Choosing one or the other will depend on what your cat likes best.
Orijen Cat & Kitten: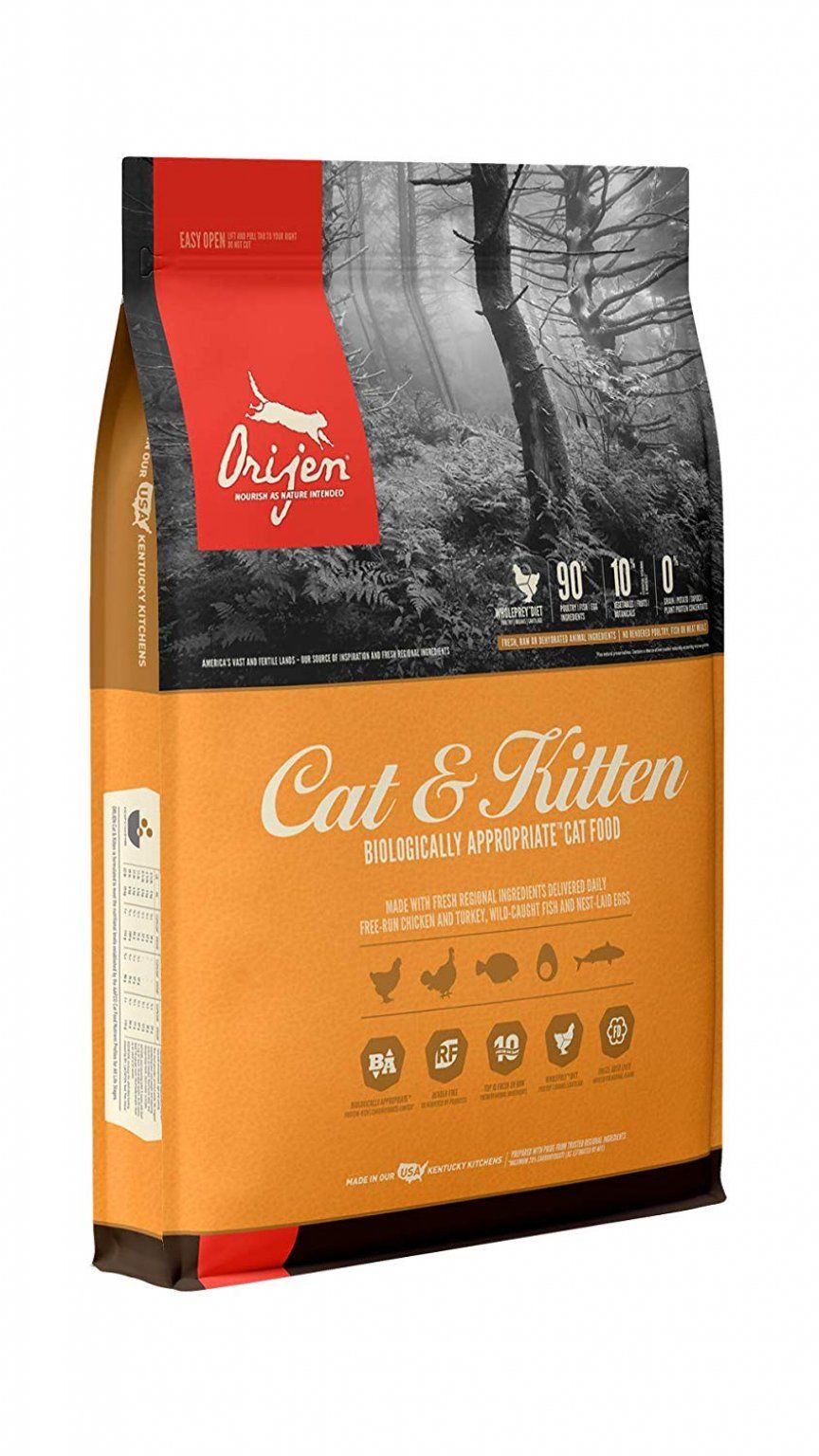 This is a premium feed with a cereal-free composition of excellent quality with 40% protein made from chicken, turkey and fresh fish (85%), fruits and vegetables (15%) with a low glycemic index (GI) ). You will find it in the cat feed section. As you have noticed, this feed is called "Cat & Kitten" (which means adult cats and kittens) … And that is precisely what makes it especially useful. And feed of the Orijen brand has an outstanding quality, but Cat and Kitten adds size and texture of the croquette very easy to chew. We have recommended this product to many of our customers, and it has worked much better than others, due to its excellent composition (meat and fish 85%), natural chewing and digestion.
2 – The best food for puppies:
In the case of feed for young kittens (Junior / Kitten), we consider that the best options are:
In this section we would also include the answer to the question: What is the best food for young sterilized cats? because we consider that a newly sterilised junior cat has 99.9% the same needs as one that is not.
The truffle Il Tartufo – Kitten: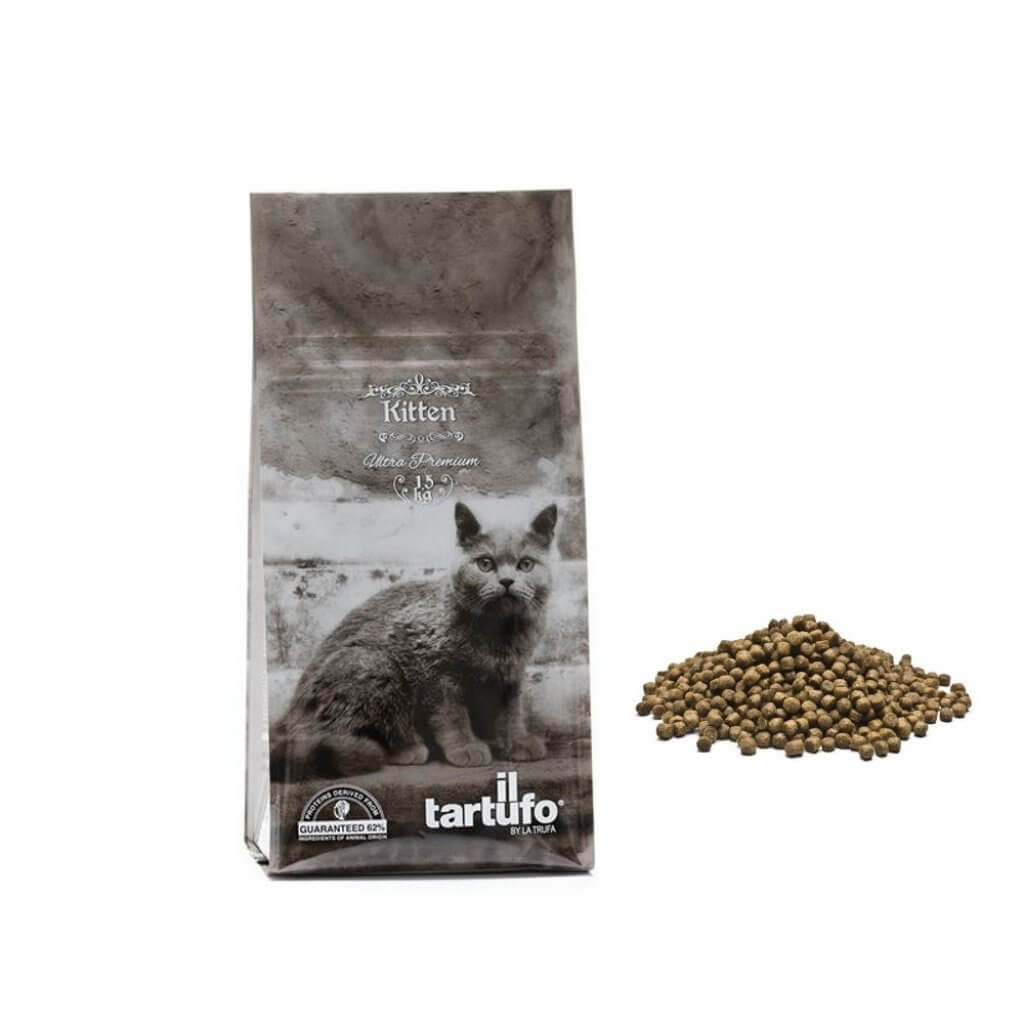 Once again, this spectacular brand occupies the first place. A feed without cereals and holistic for puppies, of the highest quality, based mainly on chicken, tuna and salmon (> 62%). What would we especially highlight about this product? A perfect composition, with a lot of products of animal origin. It is highly palatable (great taste), which will stimulate the appetite of your kittens to the maximum. Size and shape of the croquette are ideal for the still soft jaws of our puppies. A price without competition: we consider it the best feed for puppies quality price.
Orijen Cat & Kitten: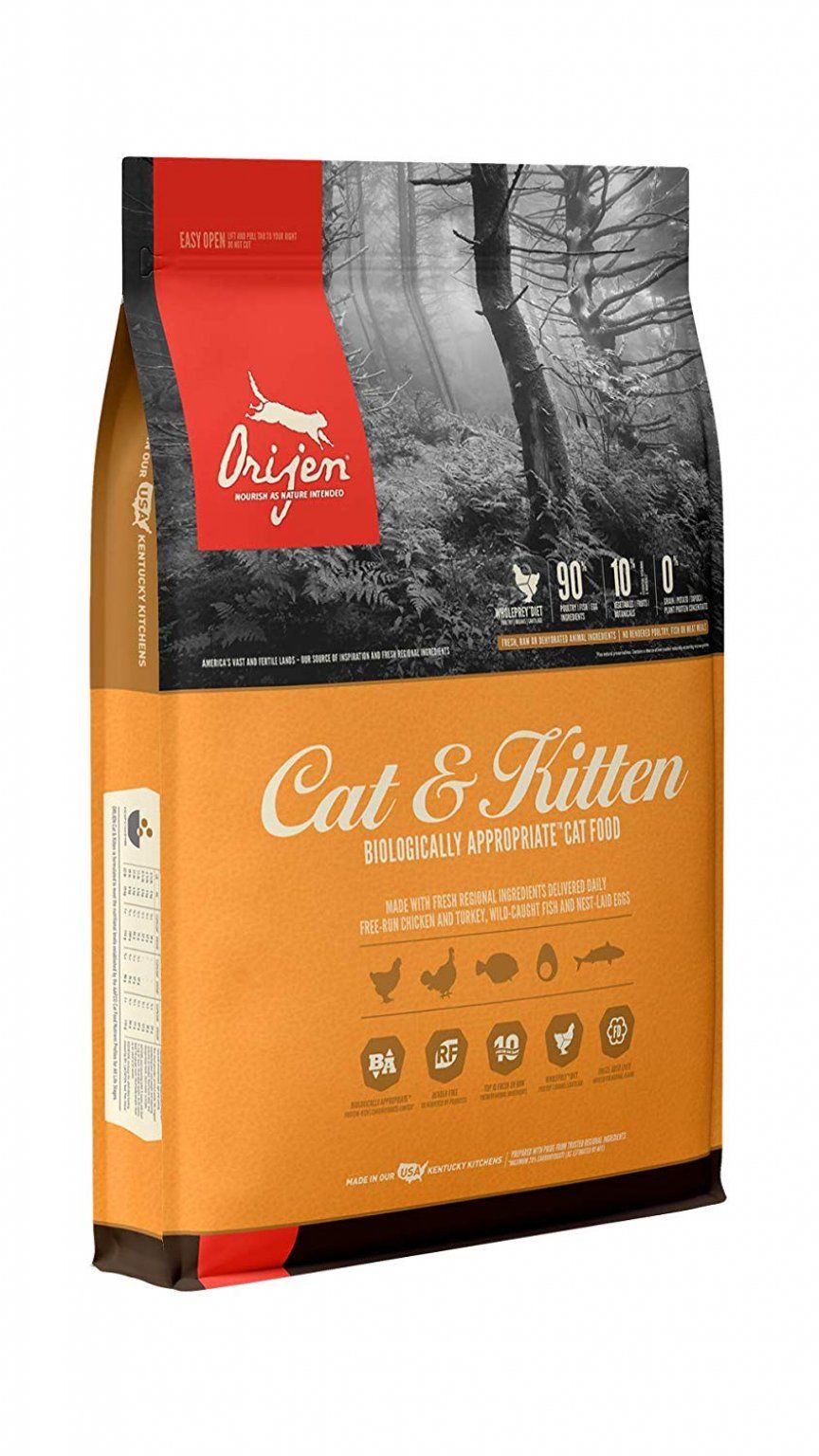 To take into account that it is an ideal food, not only for puppies but also, as we have mentioned before, it can continue to be used in adulthood.
Similar to the previous ones, it is formulated based on natural ingredients, reaching 40% protein. It contains 85% meat, made from 66% fresh meat and only 33% dehydrated meat. The rest, 15% include slow-absorbing vegetables (low GI). You will also find it in the feeding and lactation section for cats.
3 – What is the best feed for sterilised cats? – Sterilised:
Many people want a specific feed for sterilised cats, but the reality is that any option in the first section is superior to this, even if you are looking for what is the best food for a sterilised cat.
If you still prefer to use a feed that is designed explicitly for sterilised cats, this is our recommendation:
True Instinct – Original Sterilised: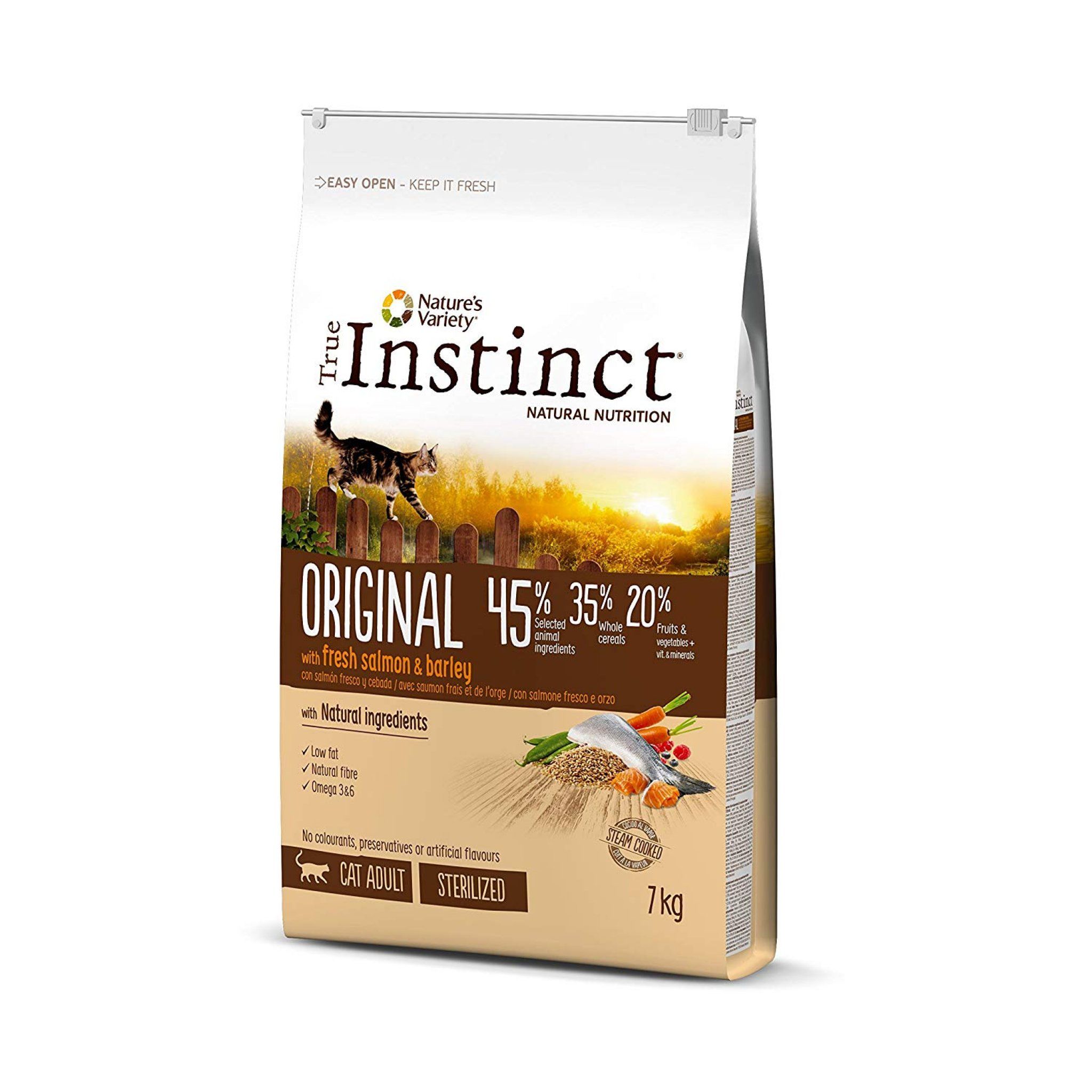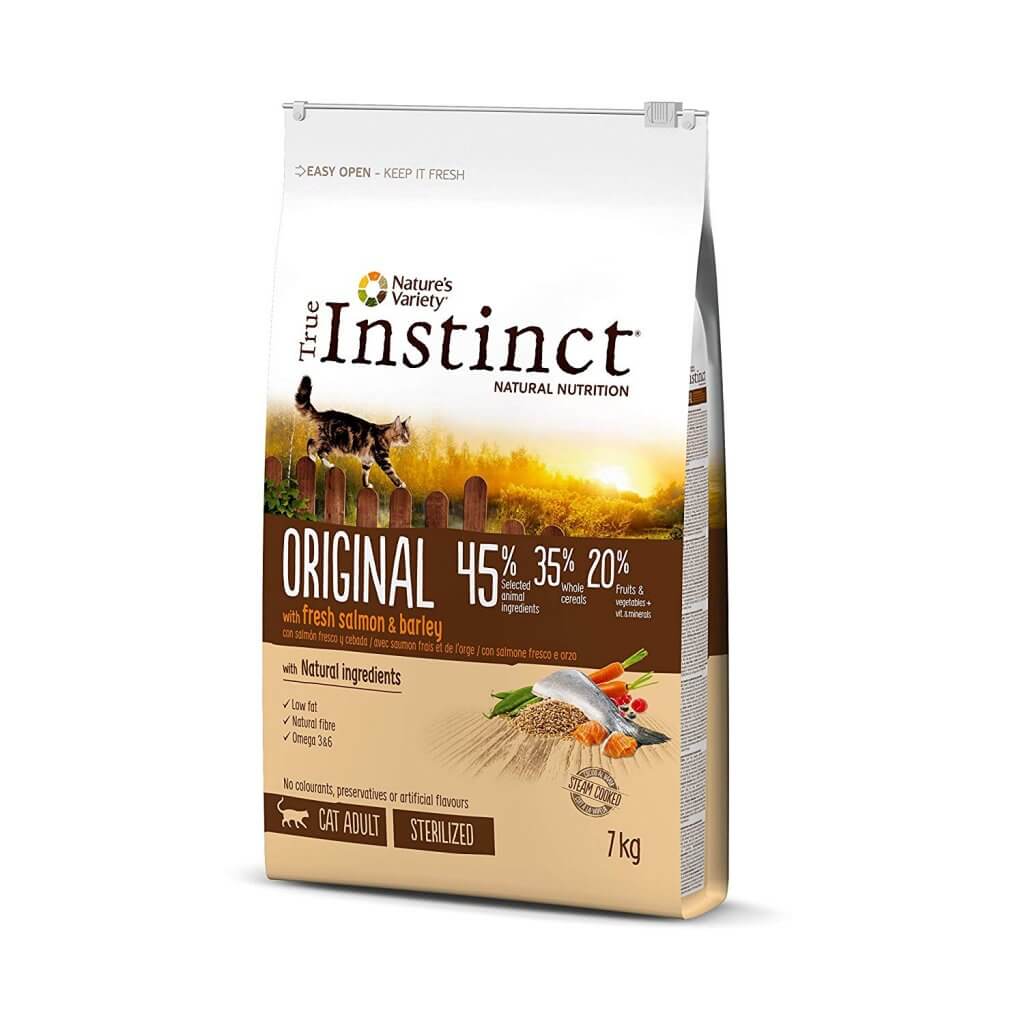 We consider it the best specific nutritional option for sterilised cats, both young and adult, taking into account the need for a limited caloric intake (however, any recommendation in point 1 could be as valid as this one)
It is low in calories and is based on salmon, chicken, pork, barley and brown rice, fruits and vegetables. A large number of products of animal origin (45%), whole grains (35%), fruits and vegetables (20%).
4 – What is the best feed for senior cats? (elderly):
For older cats, we have different needs, since, like humans, when cats get older, it is especially important to take care of certain nutrients, as it enters a phase with a greater predisposition to suffer cardiovascular or renal problems, in addition to needing a joint reinforcement.
Pro plan Sterilised +7 (Turkey):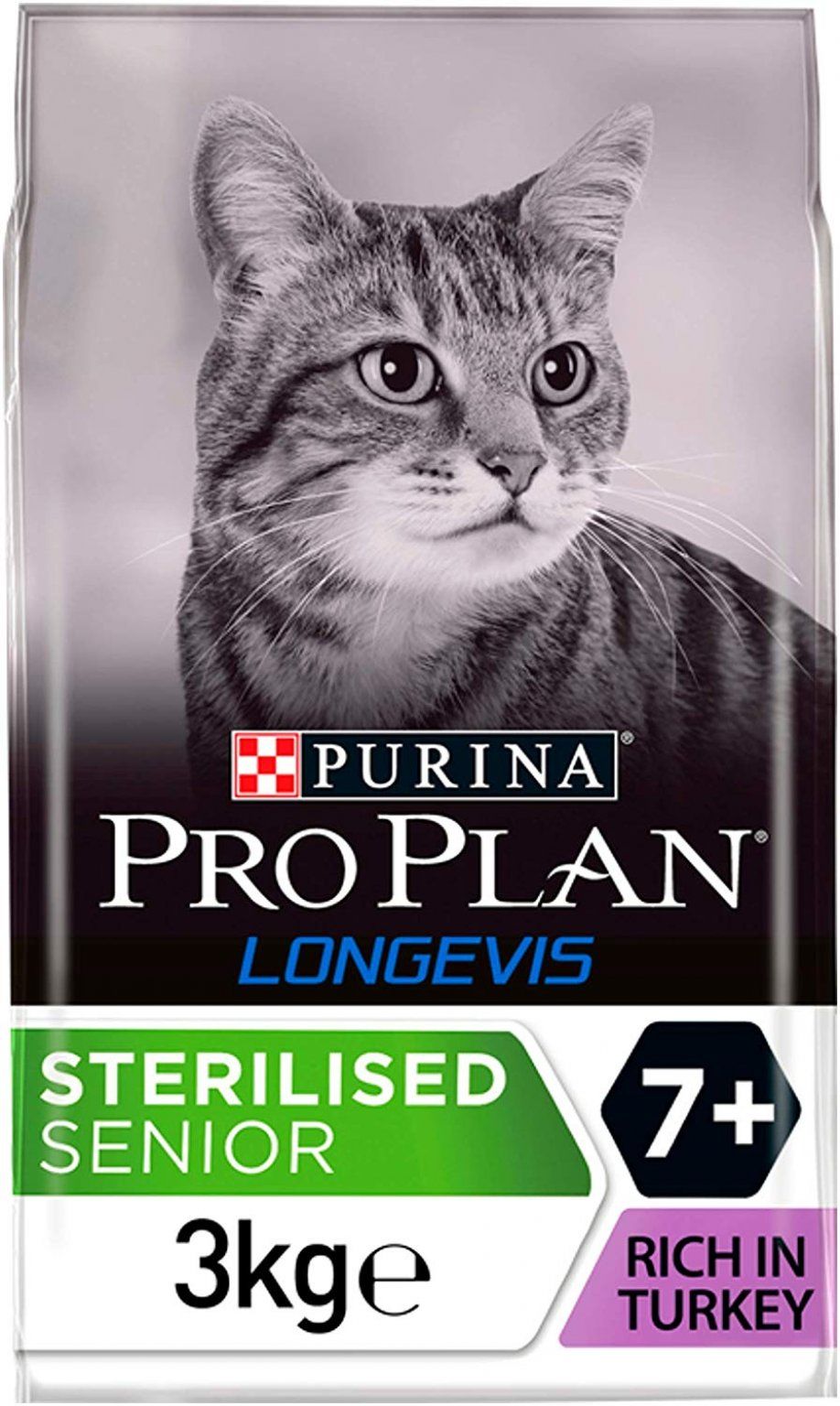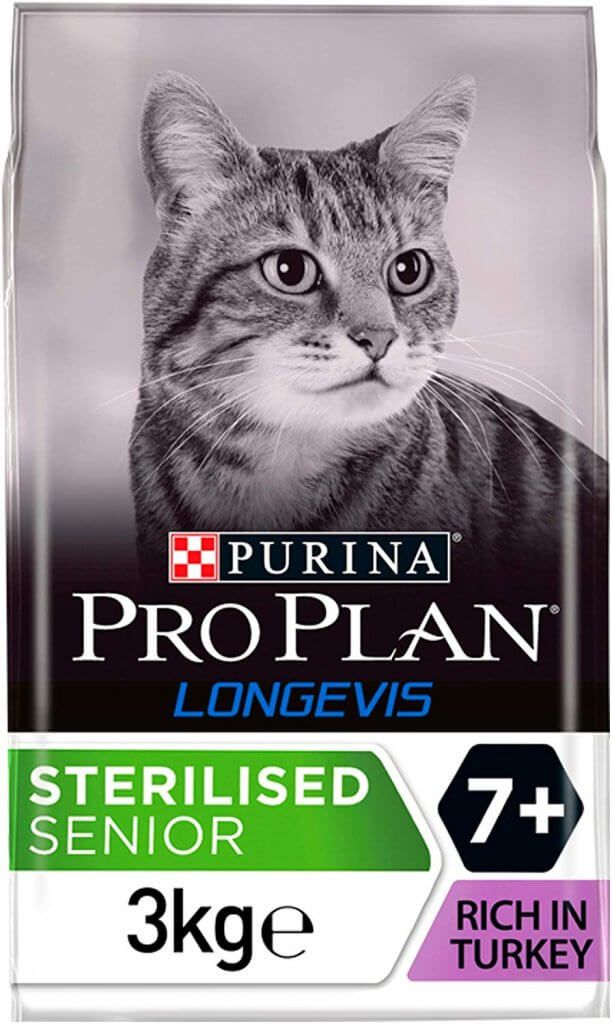 It is a feed explicitly designed for cats for over seven years. At advanced ages, cats lower their activity level. Therefore, they should be given a lower-calorie feed (as well as sterilised cats). This feed serves a double purpose, as it is ideal for all elderly cats. It has characteristics that help keep immune, renal and digestive functions in perfect working order. It also includes a prebiotic complex with proven efficacy in extending the life expectancy of cats.
5 – What is the best feed for thin cats (or who eat little):
When we have a bad cat, we should focus on giving him food that stimulates his appetite. For this, we recommend a combination of two factors:
Feed without premium cereals (see point 1):
These feedstuffs have a very high palatability, you will notice immediately, after a couple of shots, you will appreciate changes in eating behaviour (they like it much more).
Add quality wet food:
It is already known by all that cans, and cats get along exceptionally well, and in the case of cats with a finicky appetite, it is an excellent incentive to increase food intake.
6 – Which is the best feed for overweight cats:
If we have a small Garfield at home, which has been a great treat, for us this is the best option:
True Instinct – Original Sterilised: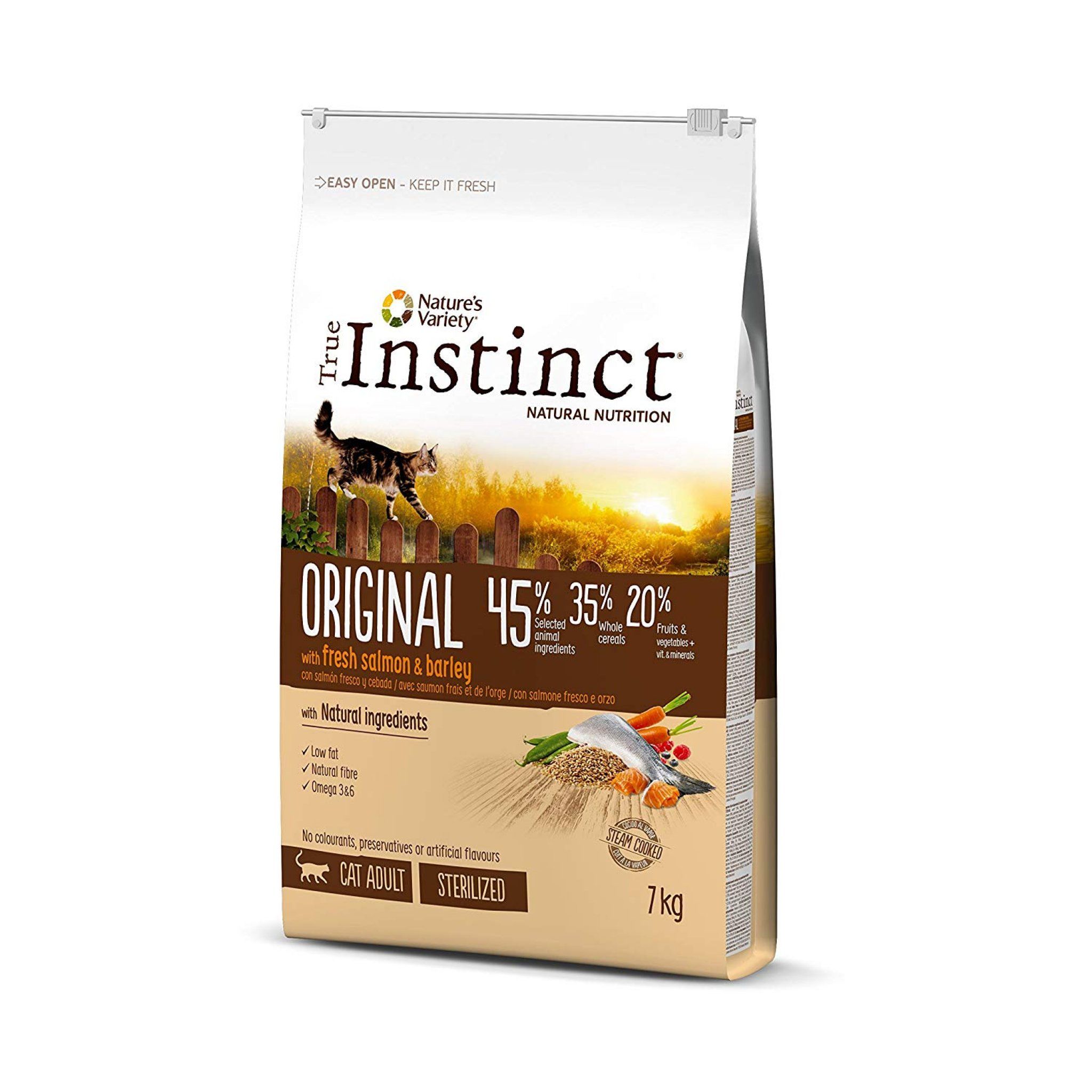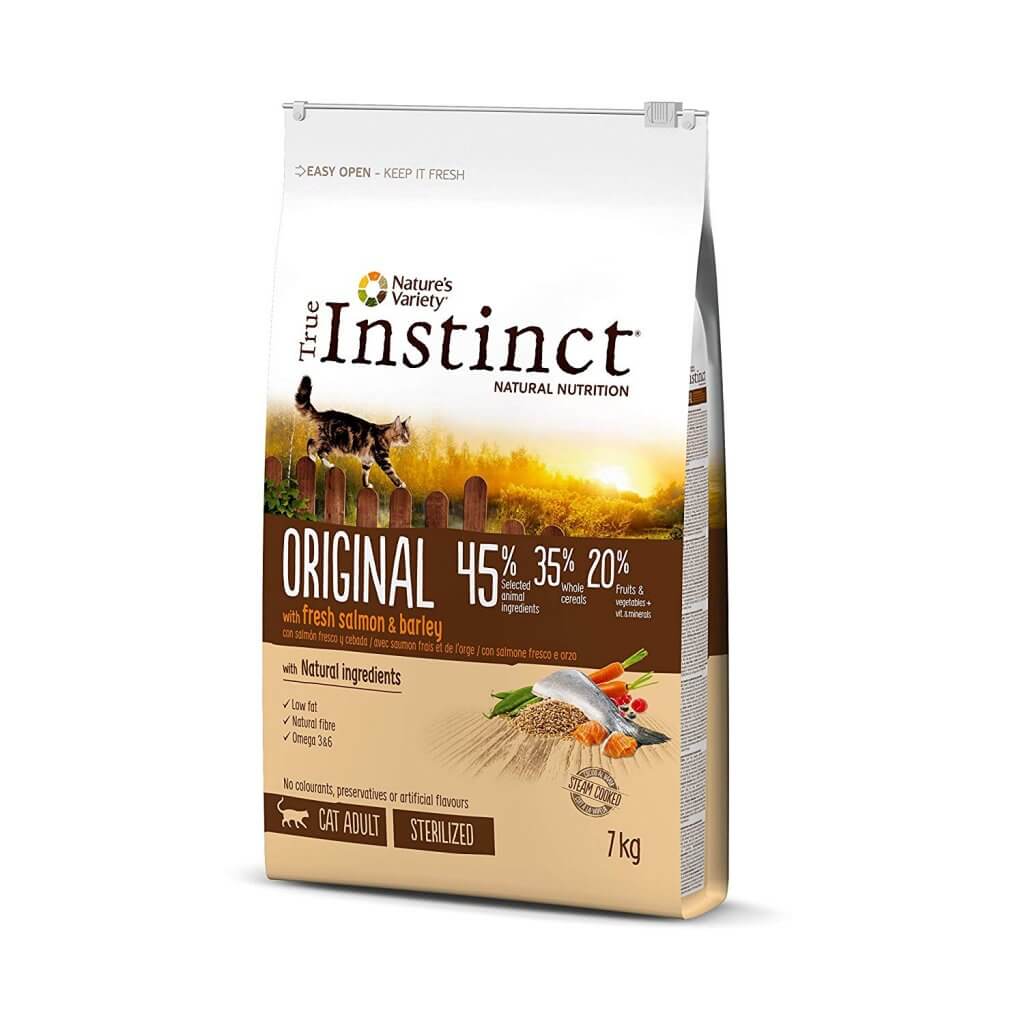 It is a feed that fulfils its mission for overweight cats and is especially suitable for sterilised cats. Anyway, it seems the best option for an overweight cat that we have not sterilised. It is specially designed with high amounts of animal products, whole grains, fruits and vegetables of low GI (Glycemic index). All this keeps your glucose and, therefore, your body weight under control.
It is based on salmon, chicken, pork, barley and brown rice, fruits and vegetables.
7 – And which one is the best if my cat is allergic? (dermatitis / gastroenteritis)
The best feed for allergic cats that manifest dermatitis/gastroenteritis (EYE, associated with food allergies), for us is:
Purina Pro Plan Hypoallergenic (Veterinary Diets):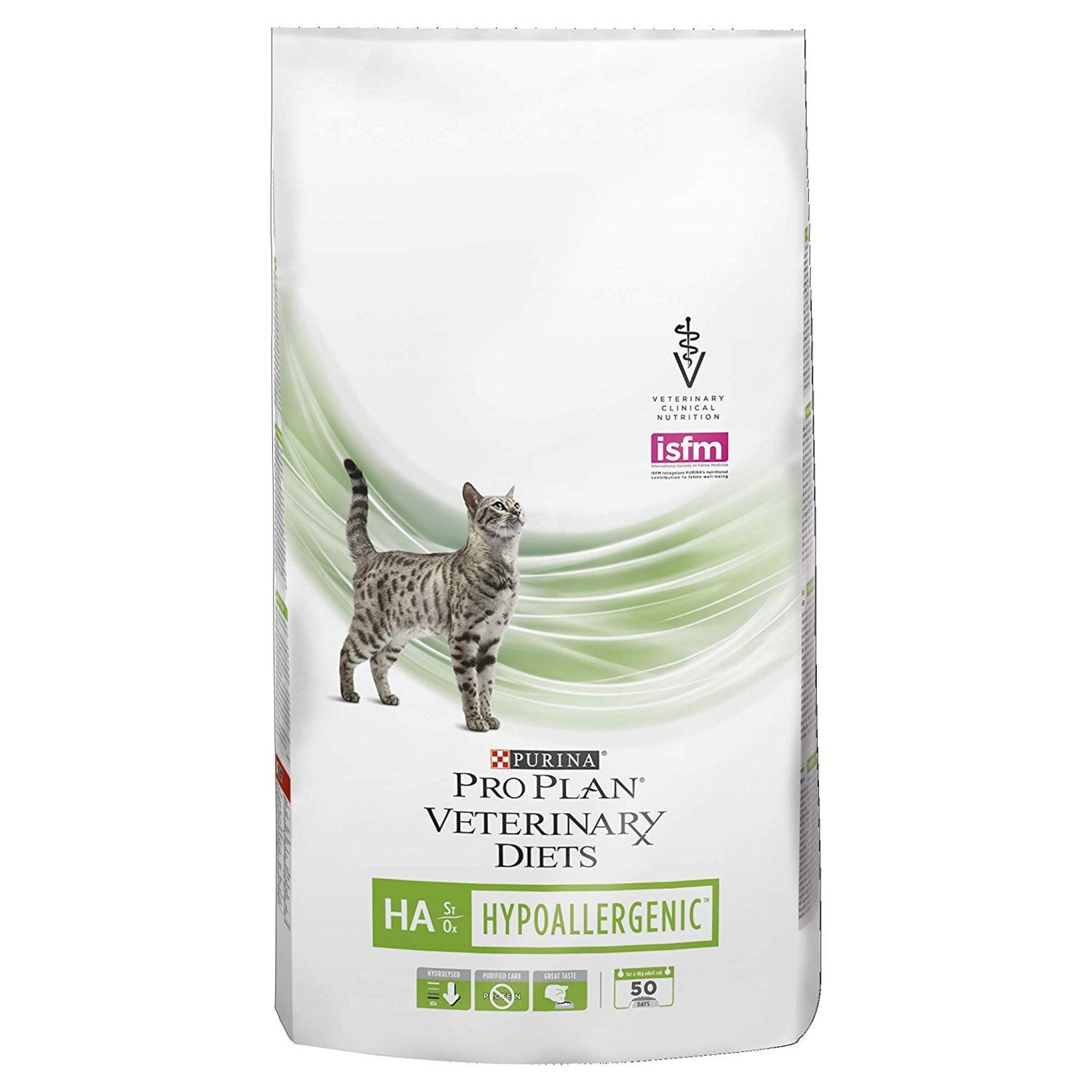 The range of Pro Plan Veterinary Diets of the Purina brand gives us that extra veterinary quality that we need in these cases. It is a veterinary feed specifically designed for the treatment of these diseases, made from hydrolysed protein easily digestible, so it is undoubtedly the best hypoallergenic feed for cats on the market.
8 – The best for the control of hairballs (Hairball)
The first recommendation of point 1 includes a premium quality feed (Il Tartufo truffle – Adult Cat), which includes components to keep unwanted hair accumulations under control, making it the best option.
However, if your cat's problem with hair is fundamental, and that is what you want to give priority to, our proposal would come from the hand of the famous Affinity-Advance, which offers us two possibilities, depending on whether our cat is sterilised or not.
Affinity ADVANCE Hairball: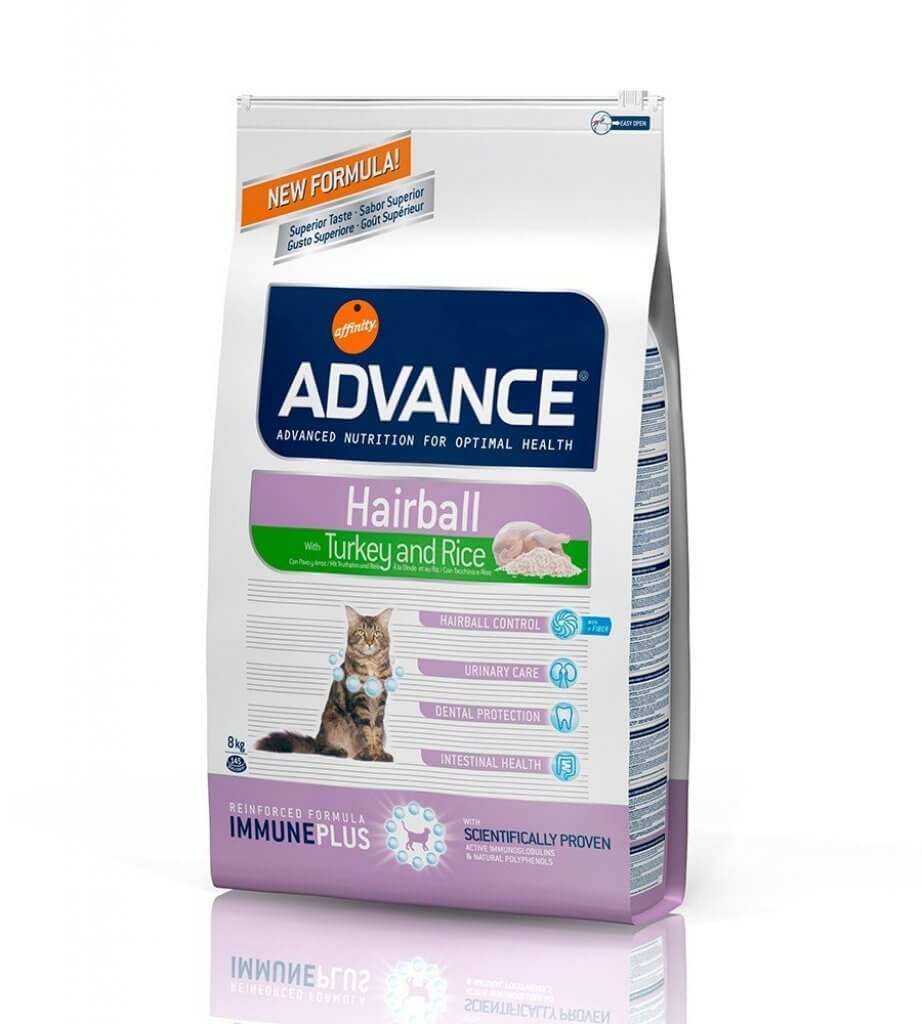 With 36% protein, made from turkey, rice, wheat, fish oils, poultry proteins, animals, tuna and eggs, it gives us a large protein spectrum to meet your needs. It is complemented with oat fibre that will help you to have proper intestinal functioning and prevent the formation of hairballs.
It is a feed with only 14% fat, so it will help us control the weight of the animal if it does a limited amount of exercise (indoor cats).
Affinity ADVANCE Sterilized Hairball: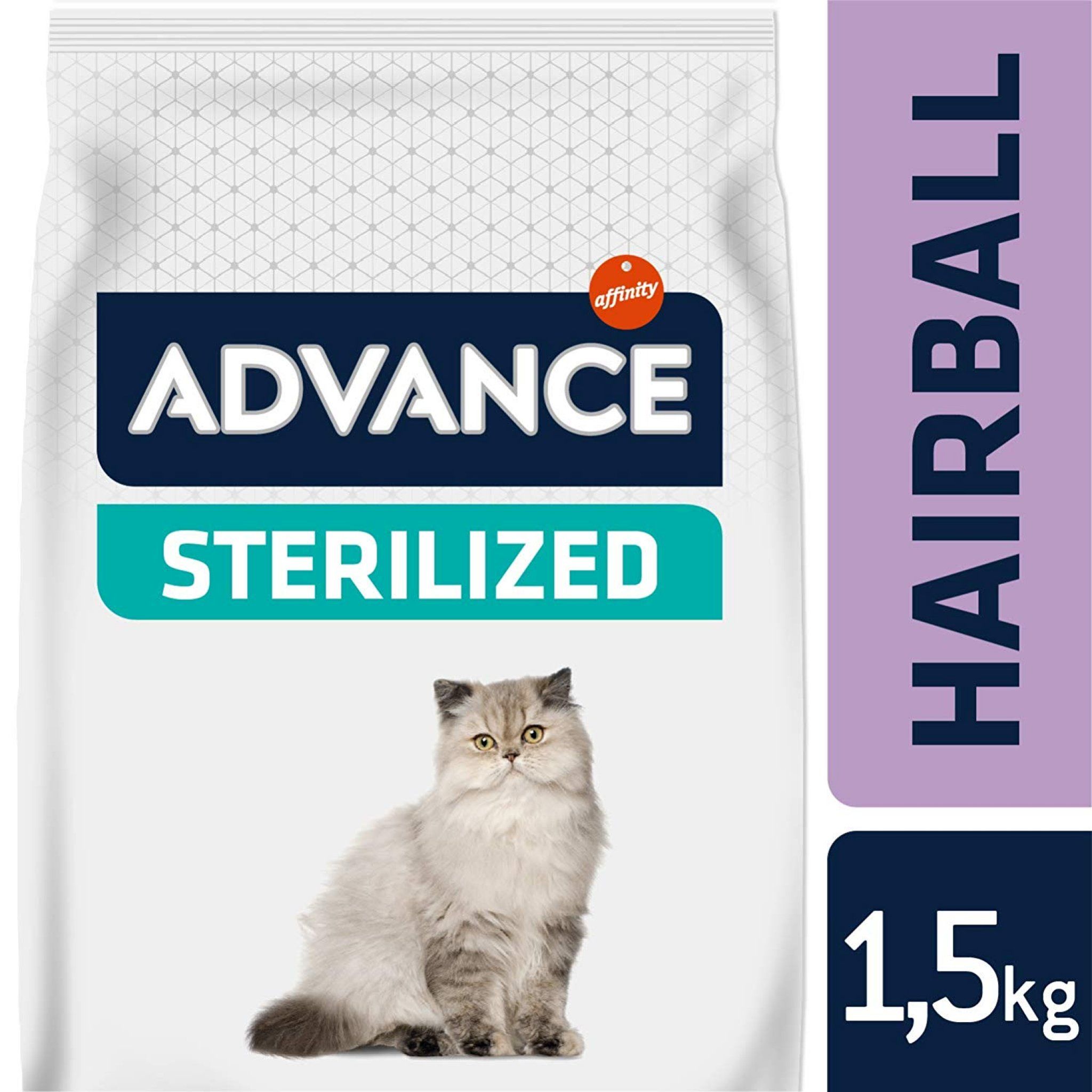 A cat food option very similar to the previous one, with the difference that barley is included instead of rice because it has a lower glycemic index, and with it and other adjustments in the composition that offers a lower caloric level with a level of similar quality.
9 – What should I give if cat have gingivitis?
In this case, what we recommend is a visit to the veterinarian, as it is not something that, a priori, can be solved simply with food. However, it is convenient to base your diet on dry food to help make a "brushed effect", since wet food, although they love it, can sometimes help to form tartar. We also recommend the addition of dental snacks that will help reduce plaque. We insist anyway. These cases are assessed more accurately with your veterinarian.
(Do not confuse gingivitis with necessary oral conditions, for which we would cause the opposite effect).
10 – When our case is that of a cat with kidney failure
When our cat has problems with his kidneys, there are several options, but the ones that should give us more confidence are those designed specifically for veterinary consultations. Anyway, we should always go to the vet before administering a feed that could be inappropriate.
These feeds are designed to have a controlled protein intake in addition to other additives that help the animal keep these conditions under control.
Affinity Advance Veterinary Diets RENAL: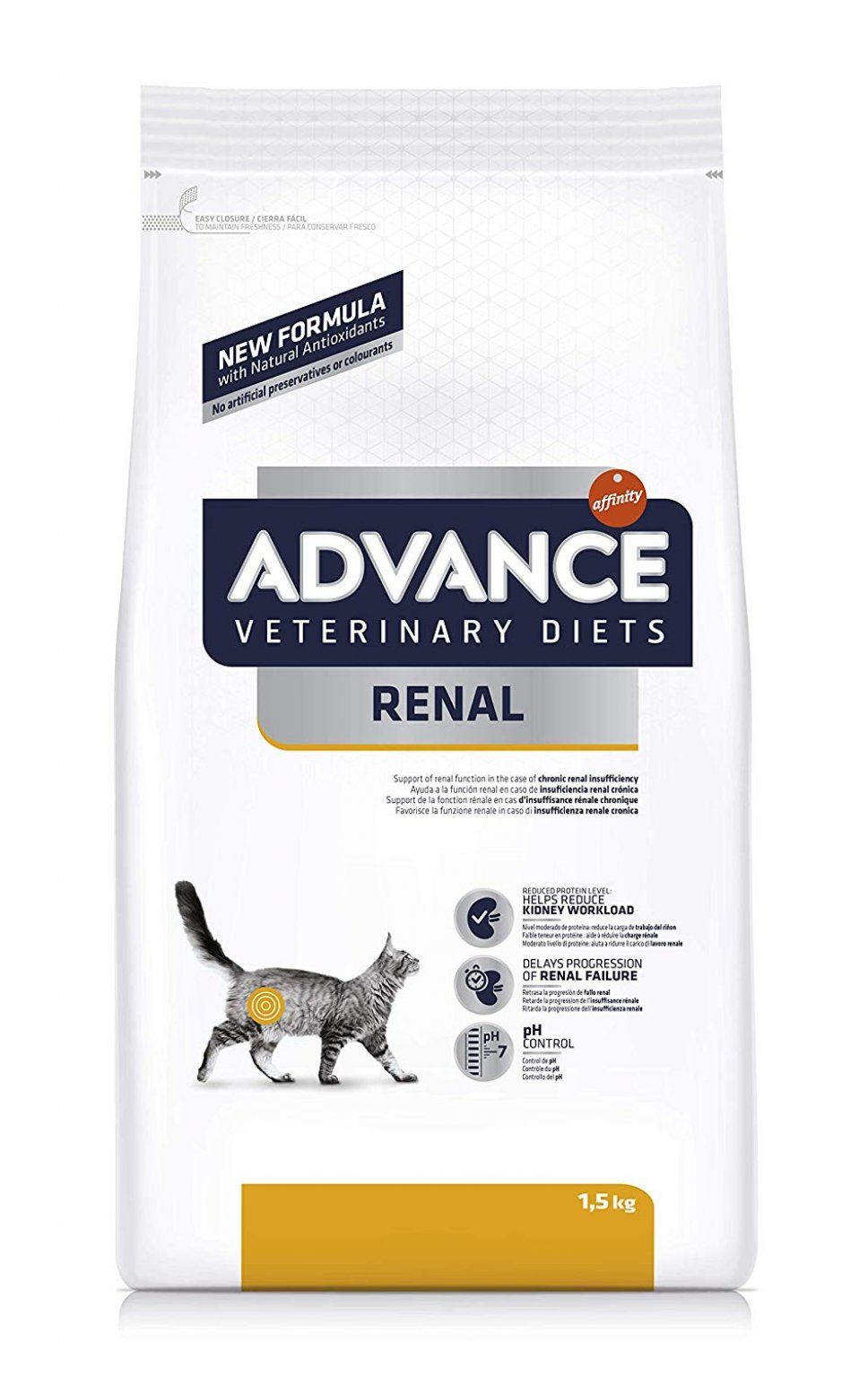 Suitable for oxalate stones (crystals). It is low in sodium, phosphorus and proteins (although these are of high quality). It is dense in calories, so it will help if your cat has trouble eating (usually related to this type of problem). Add potassium, taurine and fish oils rich in omega 3. This product will not only help you with your kidney problems but is also suitable for preventing heart problems.
Purina Pro Plan Veterinary Diets RENAL FUNCTION: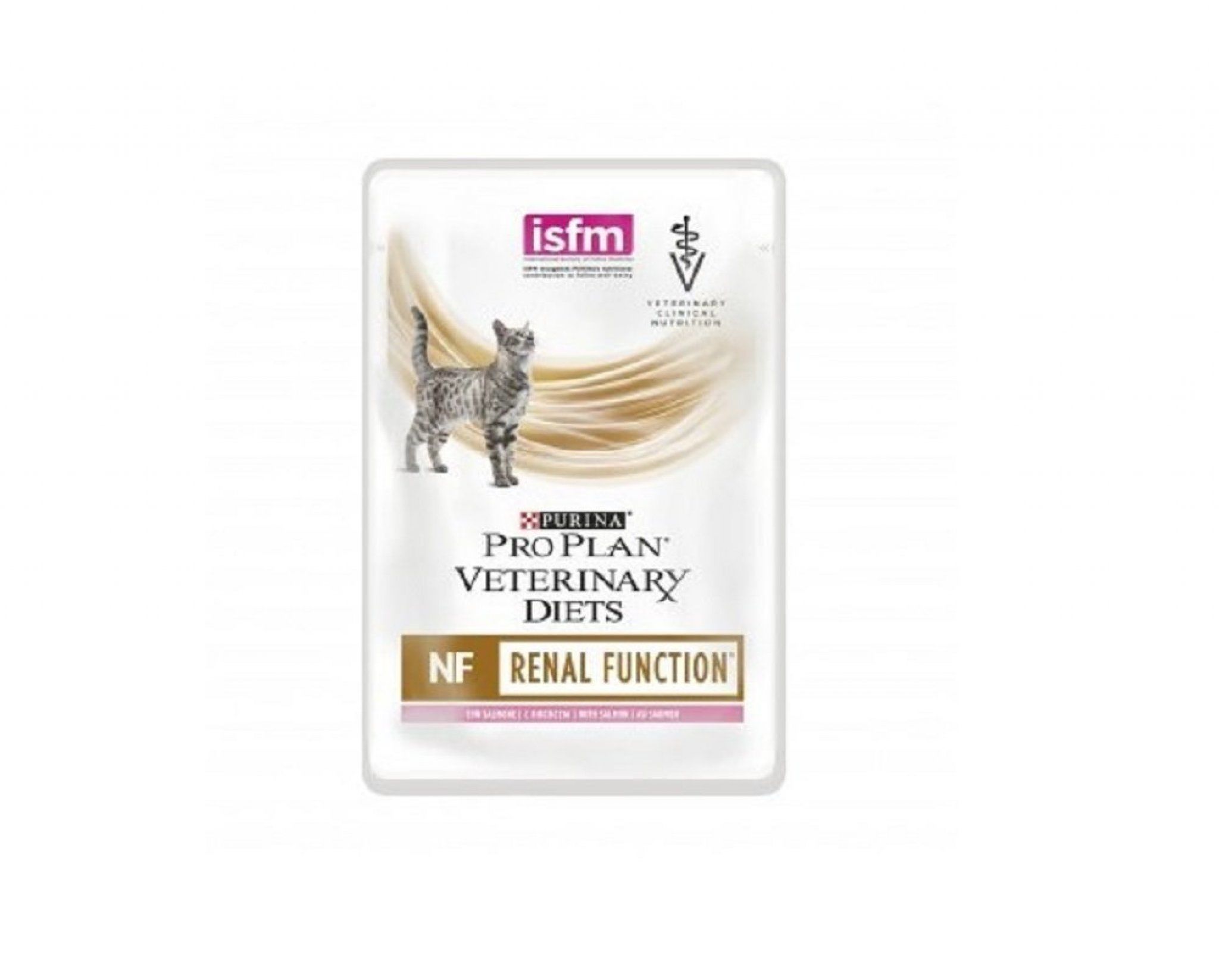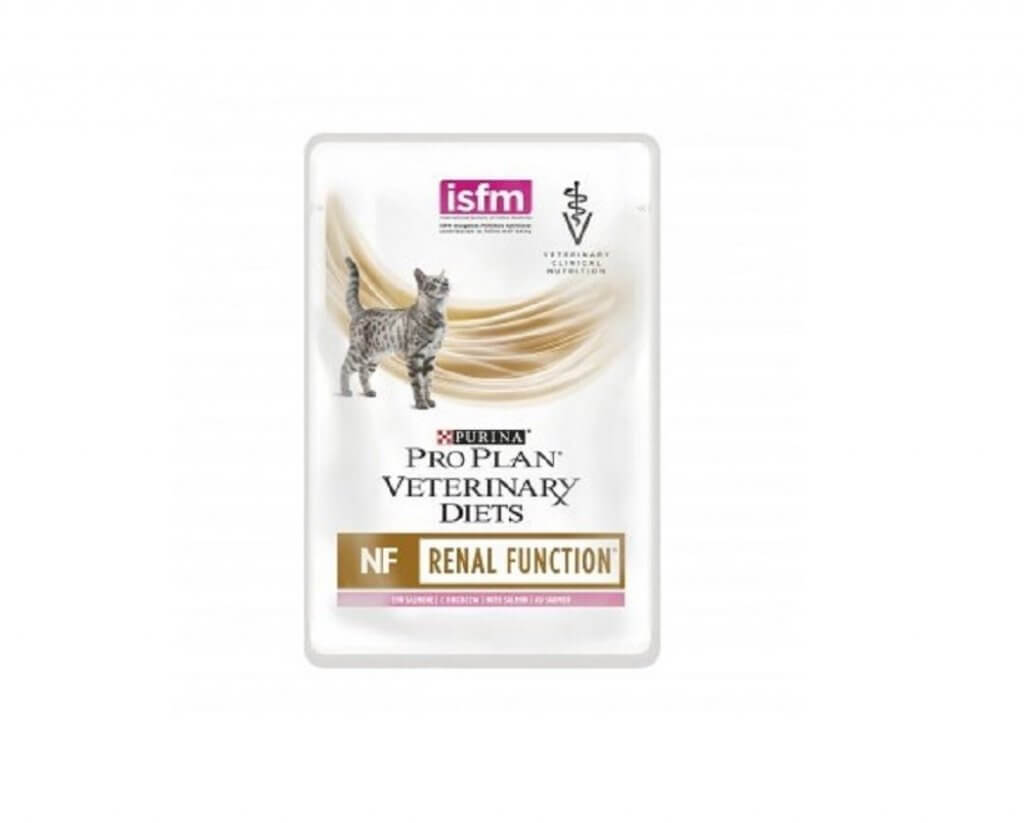 It is a feed with characteristics very similar to the previous one. Low in sodium, phosphorus and protein and dense in calories. Suitable for calculations (crystals) of struvite and oxalate.
11 – The best option for cats with diarrhoea or gastrointestinal problems
In this case, when we have an animal with ease for gastritis, pancreatitis, diarrhoea and vomiting, and what we need is a straightforward digestion feed, the choice is clear:
Affinity Advance Veterinary Diets GASTROENTERIC SENSITIVE: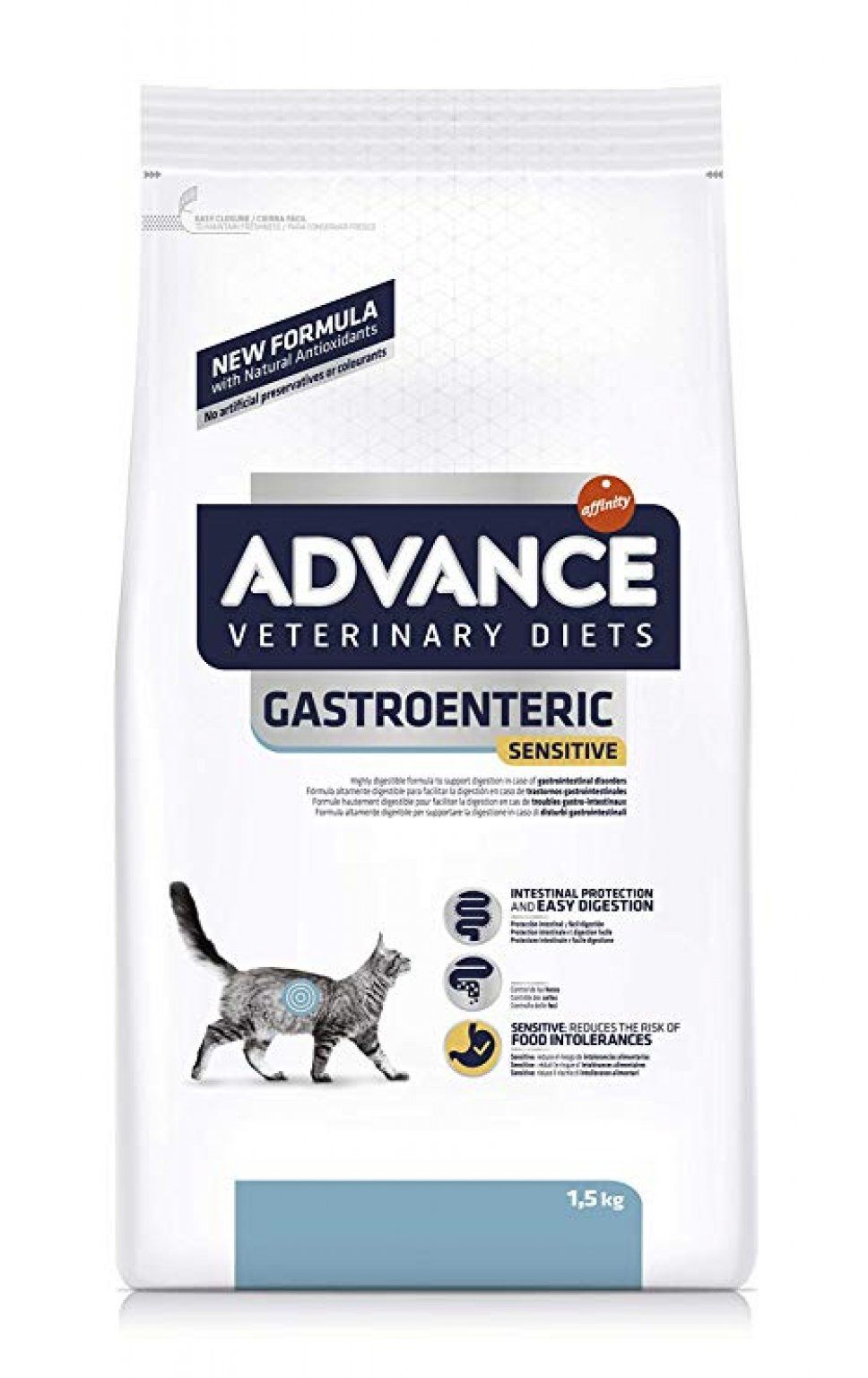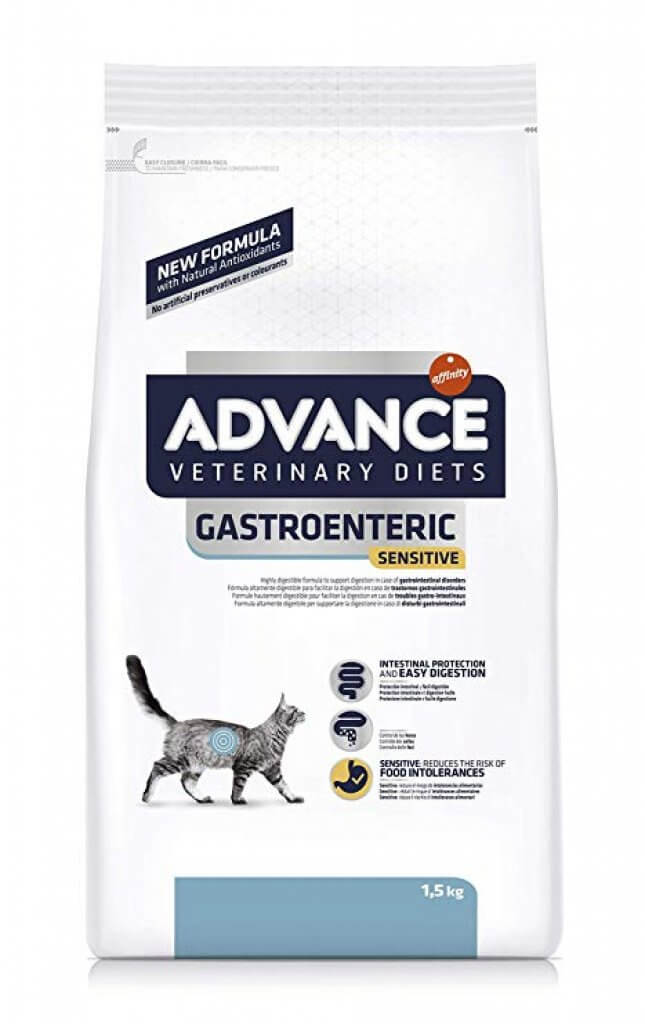 Based on rice, hydrolysed proteins (easily digested) and medium-chain triglycerides, omega 3, prebiotics and a low level of fat, they will help deflate the intestine and improve its general condition. Gluten-free, so it is a feed that in addition to being indicated for gastrointestinal problems, is also hypoallergenic.
Conclusion:
Without reservations, we can say that, in 2020, the best brand of cat food is Orijen, closely followed by Acana (which, as you will see in these links to each of these brands, are from the same manufacturer, and they differ in the % of meat, not quality). For specific needs, Purina Pro Plan is usually the brand with higher quality products.
If your cat does not have any particular need to prevent it, by giving one of these feed without cereals for cats that we mentioned in the first points of this guide, you will notice a significant change, both at the level of general condition and the desire to go in the food.
We assure you that you will smile when you see them eat.
How to choose the best feed for your cat?
Learn what cat feed brands carry, their prices and their real quality. Do you feed your cat correctly? Is it essential for your health? What do You think is better? Find out!
Statement of intents
The first of all is to say that, in Cat Stuff:
We are not animal nutritionists; We only rely on what we know, what they have told us and our experience.
We respect the BARF or ACBA diets.
Although we are omnivorous, we are not in favour of animal abuse or any practice that may harm them.
We are not going to tell you what brand of food you should buy from your cat. We only offer you some guidelines to choose as appropriate as possible.
We have opted to offer a holistic diet to our cats (we have tried Almo Nature, Orijen and Porta 21 among others).
What does a cat have to eat?
The essential food of the feline diet should be meat. The cat is a strictly carnivorous animal. Taurine is an essential amino acid for cats and is only found naturally in meat.
Other nutrients that the cat should consume are proteins (between 30-45%) and some types of fats in smaller amounts.
Depending on the nutritional stage of the cat, its diet should contain a type of nutrients. It is not the same what a small cat needs as an adult cat.
If you choose to feed your cat with commercial feed (and, as in our case, you can combine it with other types of diet such as raw food and wet whipped food), you must know what you should consider when of choosing one brand or another.
How to know what a feed is made of meat?
On the labels you can see the components of the feed, the best thing is that the main ingredient is dehydrated or dissected meat. The feed must have as a majority ingredient dried or dried meat suitable for human consumption.
In the blog of My Cats, BARF offers the following legend, where one would be the best. That the feed is made of:
Dehydrated or dried meat suitable for human consumption
Dehydrated or dried meat
Fresh meat
Meat meal of "whatever."
Flour "whatever."
Indicating that the meat is dehydrated or dried is essential because, when the meat undergoes this process, its weight is reduced. That is, 25% of fresh meat can end up being half in dried or dried meat.
That the origin is fresh meat and not meat meal is relevant since fresh meat only goes through a manufacturing process, and flour by two (which is less natural and less close to the component we are interested in: meat).
Types of cat food
Depending on the quality and nutritional contribution of the feed, brands can be classified into three ends: low, medium and high.
Each end has its nuances, and within the same scale, there may be better or worse feed. Reading the nutritional labels, we can see which one is better for our cat.
Comparative table of food for cats
High-end cat food:
Porta21
Applaws
Taste of the wild
Acana
Almo Nature
Orijen
Ziwi Peak
Mid-end cat food:
Affinity
Advance
Hills
Eukanuba
Royal Canin
Low-end cat food:
Compy
Friskies
Brekkies Excel
Whiskas
Purina
| Dry Cat Food | Orijen | Whiskas |
| --- | --- | --- |
| Crude Protein | 45.8% | 40.2% |
| Crude Fat | 21.1% | 13.7% |
| Crude Fiber | 4% | 5.1% |
The high-end food can even be cheaper than feedstuffs with a worse nutritional intake for the cat. And if we add to that what we will save in veterinarians and dislikes, it is priceless.
But let's see a little more detail of each type of feed to decide better.
What is low-end food?
The low-end food is what is usually found in supermarkets. A lot of colours and a lot of promise, but very little real meat inside.
We often see that in the low-end food bags they do seem to say that it contains meat; with messages of the type: "Chicken flavoured" or "Meat as the main ingredient".
Low-end food does not have enough nutrients for the cat. The trick is that, for the production of these feedstuffs, animal by-products are used: wastes not suitable for human consumption such as viscera, hair or feathers, skin, cartilage, internal organs, spikes and legs, etc. These animal by-products are complemented with cereals (which, as far as we know, are not precisely the basis of a carnivorous diet).
If a food is made of 25% meat, 10% rice, 20% wheat, 20% corn, etc. The main ingredient is meat, but in addition to being counted without drying out (which would then be less quantity), the sum of cereals (50%) exceeds that of meat. Main ingredient meat? Not enough.
To finish off the product, low-end food carry dyes and flavourings. Something quite evident when we see that they are striking colours far away from the colour of the flesh.
Often, this food labels are informed that they carry all the necessary nutrients and that they have passed the relevant analyzes (even with sufficient satin). But the reality is that they don't nourish our cat as they should.
Animal by-products are not meat, and the cat does not metabolize them properly. Although a beam contains iron, humans would not metabolize it well as we do with lentils. The same happens to the cat with this type of food. And cereals or other foods should not be the primary ingredients of the pussycat's diet.
What is mid-end food?
They are the foods that are usually found in pet stores and veterinarians.
Sometimes, some of this food is also considered high-end, especially in unique variants such as feed for neutered cats or with little physical activity (these cats require other nutritional needs).
Although the vet recommends one of these brands, we should always check the label to make sure. We may be advised of this type of feed by tradition, ignorance or, in the worst case, by economic interest (sales commissions). So it is best to choose for ourselves.
What is high-end or holistic food?
The high-end food has recently been called holistic feed.
The holistic movement is, in origin, a concept applied to humans that takes into account personal development as a whole: mind, body and character. And it promotes ideas such as exercise, healthy life and adequate food. Now the holistic concept has been extended to domestic animals, and from this, the idea of holistic feeding has emerged.
As Hippocrates said, we are what we eat. So in holistic philosophy, nutrition is the vital force of the body. In the case of cats, this force is mainly given by the nutrients mentioned: meat, protein, etc. High-end feeds usually offer an adequate amount of these nutrients, and use fewer unnatural elements for their production. This has consequences for the cat's health, in the short and long term. In our case, for example, holistic eating has allowed Kato to reduce his itchy disorder.
One of the problems that this type of feed usually presents is the low variety for specific cases (for example castrated cats). As a solution, we typically turn to a mid-end feed of better quality. Another problem is finding these feeds; but more and more, pet stores (especially those that have online sales) and even veterinarians include holistic feed to their product offerings. And the price, as we have seen, is even lower than in the worse feed.
An alternative: natural food
More and more studies are committed to natural food (from fresh and natural products), defending that it is the best food that the cat can have, since it adapts more to its nutritional needs, taking full advantage of all essential nutrients and amino acids. This diet provides an improvement to the health of the pussycat and its physical appearance. We do not mean that he will be "more handsome", but that his skin and hair will look brighter and care, this being a reflection of good health.
This type of food based on fresh products is known as the "BARF Diet" and is increasingly implemented in society, which is committed to its numerous benefits. But the truth is that it requires knowledge and time, to know what quantities, ingredients, time, etc. use; as well as freezing and preserving food correctly. That takes time, and unfortunately, we don't always have it.
Aware of this, there are companies like NAKU that offer the possibility of buying natural cat food. In fact, they defend that it is food suitable for human consumption (it may seem silly, but we have already said that much low-quality feed use unfit meat by-products).
If you want to investigate a little more, on its website NAKU Cats you can access the different ranges. A 100% natural meal in dehydrated format, you have to add a little water and wait 10 minutes, and the delicacy is ready! Making this progressive change sure that the cat will go crazy with the new way of feeding, and if we also complement it with a pack of salmon oil, your health and your coat will improve significantly.
And you, what food do you give your cat? How are the results?