If you wonder what exactly means that the food for dogs is freeze and then dried, this article will explain how it is made, the benefits of this type of food, and also it will present the best 6 freeze-dried products for dogs to help you decide which product choice for your pet.
The freeze-dried method is basically a slow freeze process which lets to keep all the nutritional values that are lost through the cooking at high temperature. Firstly the food is being frozen in the machine, then dehydrated and finally dried. Most of the ingredients are raw or very lightly processed. The maximum amount of water is removed from the ingredients in order to keep the contamination and bacteria away! It's also a reason why freeze and dried food can be stored longer than normally dried kibble. You don't have to worry that if you leave the product in a bowl for a whole day, it will produce bacteria harmful for your dog.

Most frequently, the recipe is based on 80%-90% of meat and 10%-20% of fruits, vegetables, and vitamins making it highly nutritious food full of protein. What is unusual is that the whole meat is used with organs like livers and hearts, bones, and muscles to give your dog the best natural enzymes, protein, and minerals like magnesium, and zinc and calcium. Ground bones provide the optimum level of the best natural calcium essential for dogs to have strong teeth and bones. There are products made with chicken, salmon, beef. The formula is composed of natural fatty acids like flax seeds, sunflowers seeds, pumpkin seeds, and fish. Depends on the product and the company, the food is gluten, grains, corn and soy free so it can be eaten by allergy suffers. Also, there are no artificial colours in freeze-dried food. The recipe is based on the carnivores' diet and meat is the number one ingredient.
What is more organic greens are used in a production of the freeze and dried food. For example parsley, broccoli, spinach. And plants like dandelion root or yucca extract. All of the vitamins and minerals are kept thanks to this unique method of production.
Although the price is higher than for the traditionally dried kibble, the ingredients are on the top quality and very often organic. That's the reason why your dog will become strong, healthy, happy and will look forward to every delicious meal you will serve.
The food is easy to serve. To prepare freeze and dried meal for your dog, you need to mix it with water. Make sure that your dog has an access to fresh water because this type of food has less moisture than this in the can.
Below you will find our review of the best 6 freeze-dried food for dogs. Read more about the ingredients, the recipe and the nutritional value.
The Best Frozen and Freeze-dried Dog Food
1. Stella & Chewy'S Freeze-Dried Dinner Patties Grain-Free Dog Food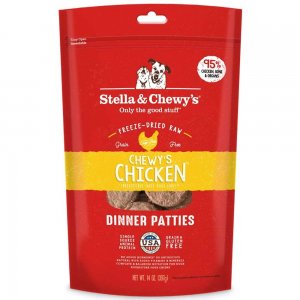 Stella & Chewy'S Freeze-Dried Dinner Patties is a high-quality, 100% organic certified dog's food that your furry friend will love! The unique combination of the best ingredients will give your dog strength to play and run and pleasure of eating.
The main ingredient is cage-free chicken giving your dog raw and natural protein. Raw and minimally processed food is extremely beneficial and wholesome. Stella and Chewy's uses at least 90% of meat, bones and organs which provides a high level of protein. Apart from meat, organic fruits and vegetables are added, for example, spinach, broccoli, beets, carrots, blueberries, cranberries. What is more, we know how important is to provide the dog with a proper amount of vitamins and minerals like iron, zinc, calcium, copper, sodium. We also use fermentation products to improve the digestion process.
The food is hormones, antibiotics and fillers free! Also, there are no grains and gluten in this product. The source of ingredients is well checked to give your dog the best meal. The raw diet is perfect for dogs who suffer from food allergies. This type of food is never heated so the nutrition value is very high.

2. Orijen Adult Dog Food
The Orijen food is based on the fresh meat of free-run chicken and turkey. It's a complete and unique recipe for adult dogs. The fresh meat is freeze-dried with no cooking which is a unique method of preparing the food. It lets to preserves all nutrients the raw meat has. The freeze-dried product for dogs contains less water than dry kibble so it can be store longer.
Orijen focuses on carnivores' diet and that's why organs, bones, and whole meat are used and mixed with a little number of fruits like pears, apples, apricots, and blueberries, as well as with vegetables like spinach, pea, butternut squash, carrots. Moreover, wild-caught fish is used and nest-laid eggs. The product is also enriched in a dandelion root, which is a highly nutritious plant. It helps to fight body inflammation and can reduce the level of cholesterol.
The food is biologically appropriate and provides all the nutrients your dog needs to stay healthy and happy. The ingredients used to make the Orijen product are well checked, and well balanced with 90% of meat and 10% of fruits, vegetables, and botanicals. The food is preservatives and grain-free.
Ingredients
Chicken (ground with bone)*,
turkey (ground with bone)*,
whole herring*,
chicken liver*,
chicken heart*,
whole eggs*,
spinach greens*,
pea fiber, turkey liver*,
turkey heart*,
whole flounder*,
ground sunflower seeds,
pumpkin*,
Butternut Squash*,
Imperator carrots*,
cranberries*,
blackberries*,
blueberries*,
Red Delicious apples*,
Bartlett pears*,
Red Heart plums*,
Tilton apricots*,
brown kelp*,
mixed tocopherols,
chicory root,
dandelion root,
summer savory,
peppermint leaf*,
ginger root*.
3. Nature's Variety Instinct Freeze Dried Raw
Nature's Variety Instinct Freeze Dried Raw Market is a grain-free natural dog food made with 90% of meat and 10% of fruits, vegetables, and vitamins. Free-range chicken is the main ingredient. Whole meat is used as well as bones and organs. Chicken is a very rich source of protein which impacts the muscles strength and joints condition. Apart from meat, the food is made with organic pears, carrots and butternut squash rich in vitamin A and E. What is more, cranberries have a positive impact on the urinary system.
Cod liver oil and salmon oil, which are the source of Omega 3 and 6 fatty acids, will make the coat looks shiny and silky. Also, a sea vegetable is added, dried kelp, which has an amazing impact on dogs' health and condition. It's full of vitamins and minerals, it also improves the skin condition.
The food is freeze-dried raw which means that is not cooked and it's only minimally processed in order to keep all the nutrition value.
Before you will serve freeze-dried raw food for your dog, just add a little amount of water and give your dog the best meal he can get!

4. Vital Essentials Freeze-Dried Tripe Treats
Vital Essentials Freeze-Dried Green Tripe is a unique and complete food for dogs contains beef tripe. It's a highly nutritious product, containing plenty of digestive enzymes. Also, it contains a big amount of good bacteria which are natural probiotics helping to digest properly and to prevent from diarrhea. What is more, beef tripe is full of protein so your dog will easily build strong muscles.
Green tripe is complete and extremely beneficial type of food. It is made with whole meat as well as bones and organs to provide the best raw product for your dog.
Also, this food is a source of calcium and Omega 3 and 6 fatty acids which improve eyes health and a heart condition and what is more, it can fight the body inflammation. It also improves the immune system.
Vital Essential Freeze-Dried is prepared without cooking in order to keep all the nutritional value the raw food contains. Moreover, it is gluten and grain free and it reduces the risk of the allergies. Made with carefulness but without preservatives and artificial colors. Your dog will become stronger after trying this delicious beef tripe.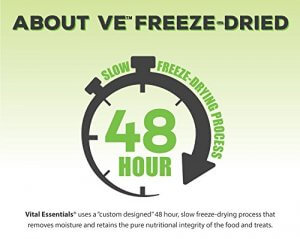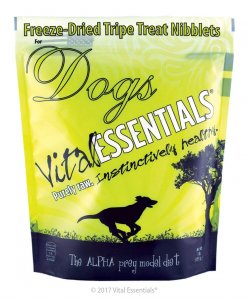 5. Primal Pet Foods Freeze-Dried Canine Beef Formula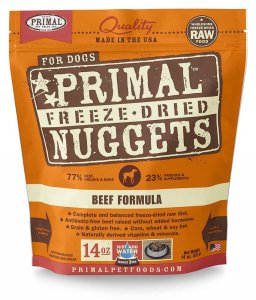 Primal Pet Foods Freeze-Dried Canine Beef Formula is a complete and well-balanced diet for dogs in all ages. It is carefully prepared with beef hearts, beef livers, and ground beef bones in order to provide the best quality of protein. Raw meat is highly nutritious and contains essential minerals and vitamins.
Apart from the meat, the food is mixed with organic greens like kale and broccoli. Organic fruits: apples, cranberries, and blueberries full of vitamin A and C to improve the immune system of your dog. Primal Pet Food is antibiotics and hormones free.
Also, grain, gluten, corn and soy-free. Even allergy suffers and fussy eaters can enjoy this food. The unique recipe is enriched in vitamins and minerals like Zinc, Copper, Selenium. Additionally, Salmon and coconut oils are extremely rich of Omega 3 and 6 acids making the dog's coat looks shiny and the skin moisturized.
Apart from this, sunflower seeds and pumpkin seeds are rich in antioxidants and vitamin B2. Moreover, quinoa sprout is one of

the ingredients. It is a highly nutritious product which contains essential amino acids and protein. Primal Pet Foods' goal is to care about dogs health and happiness.
6. Northwest Naturals Raw Rewards Freeze Dried
Northwest Naturals Raw Rewards Freeze Dried Nuggets is made with 80% of chicken and salmon and 20% of eggs, fruits, and supplements. It is formulated with whole meat like muscles, organs and raw ground bones. This wholesome meat is a great source of high-quality protein to give your dog strength and to build the muscles. Salmon is rich in Omega 3 and 6 fatty acids which help to improve the immune system, eyes, heart, coat, and skin of your dog.
Also, ground flaxseeds are an amazing source of polyunsaturated fatty acids. It's a superfood which has a positive impact on the process of digestion. Moreover, it contains proteins and a whole spectrum of vitamins and minerals. Northwest Naturals Food is enriched in garlic, a natural antibiotic, and a remedy. Garlic helps to lower a cholesterol. It also helps to digest properly.
This eco-friendly food is grain, gluten, soy, wheat, and corn free and it's safe for dogs with allergies and sensitive tummies. It's also complete and well-balanced giving your dog the best nutrition. The food is very palatable with no smell and it's a great reward used during training. Dogs love it!
Ingredients
Chicken,
Ground Chicken Bone,
Chicken Liver,
Salmon,
Broccoli,
Cantaloupe,
Carrots,
Egg,
Ground Flaxseed,
Fish Oil*,
Apple Cider Vinegar,
Blueberry,
Cranberry,
Inulin,
Dried Kelp,
Potassium Chloride,
Sodium Chloride,
Ginger,
Parsley,
Garlic,
Zinc Proteinate,
Iron Proteinate,
Vitamin E Supplement,
Copper Proteinate,
Manganese Proteinate,
Mixed Tocopherols (as preservative),
Vitamin D Supplement.
Summary
To conclude, freeze-dried food is one of the healthiest diets for dogs full of real meat and mixed with fruits, vegetables and superfoods. This unique method keeps all the essential nutrients thanks to the freezing and drying. Although the price is higher than for the traditional dried kibble, it is worth it because of the highest quality of the ingredients. Your dog will love the natural taste and smell of meals. Also, you will see the differences in the look of the dog's coat and skin. Give your furry friend a freeze-dried meal and observe pure joy of eating!