This post contains affiliate links, and I will be compensated if you make a purchase after clicking on my links.
Here, you will find all the necessary information to choose the best grain-free dry food for your dog. If you wonder whether it's the suitable type for your Fido, how it's different from the traditional dry kibble, or how to reduce grains in your dog's diet, you have come to the right place.
There's no doubt that nowadays, grains are among the most controversial foods. For instance, some people think that wheat is too genetically modified and should be reduced in the everyday diet of both humans and animals, or even eliminated. Others claim that they are healthy and can be eaten without any concerns. It can be confusing, right?
The most important judge will be your dog, obviously. After all, it's all about our furry friends. As dog lovers, it's our primary task is to provide them with the best food, and to give them our love and free time. Here, however, we will focus on food. If you noticed that your dog doesn't have as much energy as he used to, or his stool is different, try to change the dry dog food for the grain-free one. It is possible that your dog has a grain allergy and does not digest it properly.
The grain-free food for dogs become more and more popular on the market. People buy it because it is associated with a healthy diet. It's made without any grains that contain gluten, such as barley, rye, wheat, or spelt, but very often, you also won't find any gluten-free ones there, like rice, corn, quinoa, or buckwheat.
Many dog food companies decide to create products inspired by our domestic dogs' wild ancestors. These wild canines ate mainly raw meat, some fruits or vegetables, and definitely no grains. To this very day, their digestive systems may not have adjusted to digesting them. A lot of specialists add that grains aren't necessary as healthy as they used to be because they are very often genetically modified. For example, corn is one of the most genetically modified products on the market. But it's also very cheap, and that's the reason why so many companies still decide to use it in their products.
Grain-free dog food is created mainly for canines with grain allergies or sensitive stomachs. However, it doesn't mean that these are exclusively for them, as 100% healthy dogs can enjoy and benefit from these products as well. When it comes to the recipes for grain-free dry products and regular dry dog food, there's aren't that many differences, apart from the most obvious one, that is the absence of grain. Depending on the company, the main ingredient can be meat, such as venison, turkey, lamb, or fish, like salmon and menhaden fish. It is mixed with fruits and vegetables, vitamins, minerals, and nutrients to provide adult dogs with a well-balanced and complete diet. The best products are the ones made with whole meat, not with the by-products.
In the case of traditionally-made dry food for pets, the biggest problem is that, too often, it is made with way too many grains, especially as the percentage of the whole meal in comparison to the percentage of meat.
Below we present the best grain-free dry food for adult canines from the best dog food brands. Read more about the ingredients and recipes.
1. Wellness Core Natural Grain Free Dry Dog Food Original Turkey & Chicken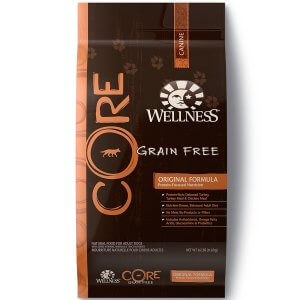 Wellness Core Natural Grain Free Dry Food can provide all adult dogs with complete, well-balanced meals. The main ingredients of this recipe are the real turkey and chicken meal. Especially the turkey is a highly digestible, nutrient-dense meat that is low in empty calories and contributes to building lean, strong muscles.
Meat protein is mixed with real vegetables, such as peas, potatoes, spinach, parsley, kale, broccoli, carrots, and sweet potatoes. There is 80% more meat in this formula than in the traditional dry kibble. That's because Wellness Core specialists created these dry foods while bearing in mind canines' natural, raw diet where meat is the main ingredient. Wellness Core uses only high-quality meat and no by-products.
What is more, dried fermentation products are added to the mix to improve your dog's digestive system and to boost the beneficial bacteria in the colon. It also influences the immune system and prevents diarrhea.
You won't find any grains, wheat, corn, or soy in this product. Instead, it's full of antioxidants, Omega fatty acids, probiotics, and minerals. Everything your dog needs to be strong, healthy, and happy you will find in this unique and natural product!
Key Features
only premium, all natural ingredients
no grains, wheat, corn, soy, meat by-products, artificial colors, flavors, preservatives
complete and balanced, protein-focused everyday nutrition
supports the whole body health, lean and strong muscles, healthy coat and skin, and digestive system
for adults
crude protein: min. 34%
crude fat: min. 16%
crude fiber: max. 4%
moisture: max. 10%
Ingredients
Deboned Turkey,
Turkey Meal,
Chicken Meal,
Peas,
Potatoes,
Dried Ground Potatoes,
Chicken Fat (Preserved with Mixed Tocopherols),
Tomato Pomace,
Chicken Liver,
Natural Chicken Flavor,
Ground Flaxseed,
Salmon Oil,
Spinach,
Vitamin E Supplement,
Broccoli,
Carrots,
Choline Chloride,
Parsley,
Apples,
Blueberries,
Kale,
Sweet Potatoes,
Taurine,
Mixed Tocopherols Added to Preserve Freshness,
Zinc Proteinate,
Zinc Sulfate,
Glucosamine Hydrochloride,
Chondroitin Sulfate,
Calcium Carbonate,
Niacin,
Ferrous Sulfate,
Iron Proteinate,
Beta-Carotene,
Vitamin A Supplement,
Copper Sulfate,
Thiamine Mononitrate,
Copper Proteinate,
Manganese Proteinate,
Manganese Sulfate,
D-Calcium Pantothenate,
Sodium Selenite,
Pyridoxine Hydrochloride,
Riboflavin,
Chicory Root Extract,
Yucca Schidigera Extract,
Vitamin D3 Supplement,
Biotin,
Calcium Iodate,
Vitamin B12 Supplement,
Folic Acid,
Ascorbic Acid (Vitamin C),
Dried Lactobacillus Plantarum Fermentation Product,
Dried Enterococcus Faecium Fermentation Product,
Dried Lactobacillus Casei Fermentation Product,
Dried Lactobacillus Acidophilus Fermentation Product,
Rosemary Extract,
Green Tea Extract,
Spearmint Extract.
2. I And Love And You, Naked Essentials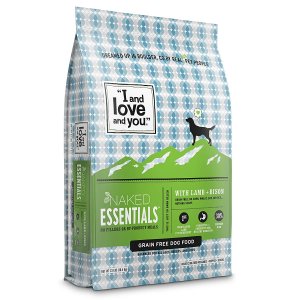 I and love and you, Naked Essentials is a holistic and complete dry food for adult dogs, puppies, and seniors. The first three ingredients are meat protein: lamb, chicken, and turkey. Especially the first one is very delicate and lean meat that's high in proteins and full of essential vitamins while chicken and turkey are the sources of selenium and antioxidants.
Apart from animal-based proteins, the recipe includes plants, such as lentils and chickpeas, that boost the nutritional value of every meal. There's also the bison, which is low-cholesterol meat and a great source of Omega-3 fatty acids.
The whole mix is a rich source of vitamin B12, zinc, niacin, and iron, and, thanks to the dried yeast, it also has other vitamins B and probiotics that help your dog digest properly and influences the immune system.
The product is free from corn, wheat, rice, soy, fillers, and by-products. It consists only of essential, natural, and high-quality ingredients, such as real foods without any artificial flavors or preservatives. This is a great choice if you want to provide your dog with complete, well-balanced and natural meals. It's the best dry kibble that will benefit your dog greatly. And your Fido will love it.
Key Features
no grains, fillers, by-products, wheat, corn, soy, rice, artificial preservatives, colors, flavors
real meat is always the first ingredient
protein-rich meals for all lifestages
it supports digestive system, healthy skin and coat, and overall health
crude protein: min. 30%
curde fat: min. 15%
curde fiber: max. 4.5%
moisture: max. 12%
Ingredients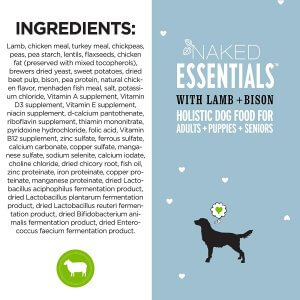 3. Taste Of The Wild Grain Free High Protein Dry Dog Food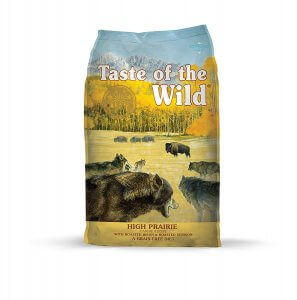 A Taste Of The Taste Of The Wild is a special grain-free product for dogs. The recipe is based on the bison and venison, both types of meat that are very rich in nutrients. Bison is not only high in proteins, but it's also a great source of Iron. Venison is a nutrient-dense food, which means that it's low in calories but high in proteins and other essential minerals. The formula is inspired by the diet of wild canines and other animals; that's the reason why the meat is the main ingredient.
The bison and venison are mixed with chicken and vegetables, such as sweet potatoes, peas, tomatoes. Apart from that, there are also blueberries and raspberries, which are rich in vitamin C and antioxidants, plus, yucca extract and chicory root that are a great source of fiber, inulin, and manganese. It also supports healthy liver and fights inflammation.
The Taste Of The Wild cares about dogs' digestion system, and that's why the recipe is enriched in dried fermentation products that support it by multiplying the good bacteria. There are also various vitamins and minerals added (such as zinc, copper, calcium, biotin) to provide your dog with all the necessary nutrients for long and healthy life.
Key Features
meat as the first ingredients
it helps to maintain lean and strong muscles, healthy skin and coat, and strong immune system
no grain, corn, wheat, or other fillers, no artificial flavors, colors, preservatives
for adults
curde protein: min. 32%
crude fat: min. 18%
crude fiber: max. 4%
moisture: max. 10%
Ingredients

4. Blue Buffalo Wilderness Rocky Mountain Recipe High Protein Grain Free, Natural Adult Dry Dog Food, Red Meat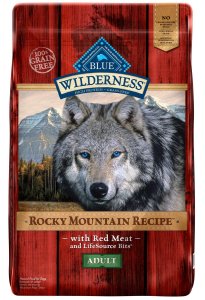 Blue Buffalo Wilderness Rocky Mountain is a natural dry food for adult dogs. The recipe is based on red meat, such as deboned beef, which is a rich source of proteins and other essential nutrients. Also, beef contains taurine, an important antioxidant amino acid.
It's a grain-free, natural dry food, which formula was inspired by the diet of the wild animals. All ingredients are natural and make the whole meal both delicious and very healthy. You don't have to worry when you serve it to your furry friend.
Sweet potatoes and peas, the carbohydrates that are easy to digest, give your dog the energy to stay active. The recipe is also rich in antioxidants, vitamins, and minerals. Apart from that, there's yucca extract that helps to digest properly and improves the smell of your pet's stool. Menhaden fish is an excellent source of Omega-3 and Omega-6 fatty acids that influence the state of your dog's coat and skin, making him look healthy and shiny. It also improves overall immunity and heart condition.
Blue Buffalo Wilderness Dry Food is recommended by veterinarians and thousands of satisfied dogs. It's free from grains, corn, wheat, soy, artificial flavors, and other potentially harmful ingredients. To sum up, this product can provide any allergy sufferer with holistic and natural meals. This crunchy kibble will be the best food for every adult dog.
Key Features
only real meat
supports healthy skin and shiny coat and immune system, provides energy, maintains lean and strong muscles
all natural, premium ingredients
no by-products, meals, corn, wheat, soy, artificial flavors or preservatives
for adults
crude protein: min. 30%
crude fat: min. 15%
crude fiber: max. 6%
moisture: max. 10%
Ingredients
Deboned Beef,
Chicken Meal (source of Glucosamine),
Peas,
Pea Protein,
Tapioca Starch,
Pea Starch,
Menhaden Fish Meal (source of Omega-3 Fatty Acids),
Chicken Fat (preserved with Mixed Tocopherols),
Flaxseed (source of Omega-6 Fatty Acids),
Pea Fiber,
Natural Flavor,
Dehydrated Alfalfa Meal,
Deboned Lamb,
Deboned Venison,
Dicalcium Phosphate,
DL-Methionine,
Potatoes,
Dried Chicory Root,
Choline Chloride,
Salt, Alfalfa Nutrient Concentrate,
Calcium Carbonate,
Potassium Chloride,
Preserved with Mixed Tocopherols,
Sweet Potatoes,
Carrots,
Zinc Amino Acid Chelate,
Zinc Sulfate,
Vegetable Juice for colour,
Ferrous Sulfate,
Vitamin E Supplement,
Iron Amino Acid Chelate,
Blueberries,
Cranberries,
Barley Grass,
Parsley,
Turmeric,
Dried Kelp,
Yucca Schidigera Extract,
Niacin (Vitamin B3),
Calcium Pantothenate (Vitamin B5),
L-Carnitine,
L-Ascorbyl-2-Polyphosphate (source of Vitamin C),
L-Lysine,
Copper Sulfate,
Biotin (Vitamin B7),
Vitamin A Supplement,
Copper Amino Acid Chelate,
Manganese Sulfate,
Taurine,
Manganese Amino Acid Chelate,
Thiamine Mononitrate (Vitamin B1),
Riboflavin (Vitamin B2),
Vitamin D3 Supplement,
Vitamin B12 Supplement,
Pyridoxine Hydrochloride (Vitamin B6),
Calcium Iodate,
Dried Yeast,
Dried Enterococcus faecium fermentation product,
Dried Lactobacillus acidophilus fermentation product,
Dried Aspergillus niger fermentation extract,
Dried Trichoderma longibrachiatum fermentation extract,
Dried Bacillus subtilis fermentation extract,
Folic Acid (Vitamin B9),
Sodium Selenite,
Oil of Rosemary.
5. Natural Balance Limited Ingredient Diets Dry Dog Food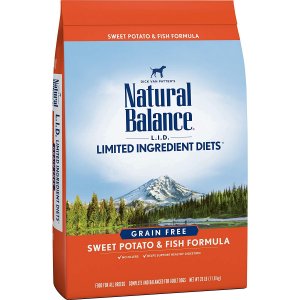 Natural Balance Limited Ingredient Diets provides complete and well-balanced dry foods for adult canines. This time, sweet potatoes and menhaden fish are the main ingredients. Menhaden fish and salmon oils are excellent sources of the Omega-3 and Omega-6 fatty acids, which have a fantastic impact on the coat and skin of your dog, making it healthy and looking good.
The food also boosts the immune system and improves heart condition. Sweet potatoes are carbohydrates that are easy to digest even for sensitive stomachs and contribute to maintaining a high level of energy. This product is grain-free with no fillers or by-products. All the ingredients are natural, which contributes to the meal's delicious taste and health benefits. Being full of the necessary proteins, it's also full of antioxidants, vitamins, and other essential minerals, such as zinc, iron, copper, or calcium. Apart from that, canola oil provides your dog with good fats without endangering the level of cholesterol. There's also a lot of vitamin E that improves the immune system and the condition of your friend's skin.
The Natural Balance Food guarantees no artificial flavors or other harmful ingredients. This delicious, crunchy kibble will be a great choice for every adult dog of an owner who pays attention to the natural and holistic feeding.
Key Features
helps support healthy digestion, skin and coat, and overall well-being
complete and balanced meals for adults
no artificial flavors, colors, preservatives, by-products
curde protein: min. 21%
crude fat: min. 10%
crude fiber: max. 5%
moisture: max. 10%
Ingredients
Sweet Potatoes,
Salmon,
Menhaden Fish Meal,
Potato Protein,
Canola Oil (preserved with mixed tocopherols),
Natural Flavor,
Dried Potato Products,
Salt, Salmon Oil (preserved with mixed tocopherols),
DL-Methionine,
Minerals (ZINC PROTEINATE, ZINC SULFATE, FERROUS SULFATE, IRON PROTEINATE, COPPER SULFATE, COPPER PROTEINATE, MANGANESE SULFATE, MANGANESE PROTEINATE, CALCIUM IODATE, SODIUM SELENITE),
Vitamins (Vitamin E supplement, Niacin, d-calcium pantothenate, Vitamin A supplement, Riboflavin supplement, Thiamine mononitrate, Vitamin D3 supplement, Pyridoxine hydrochloride, Folic acid, Biotin, Vitamin B12 supplement),
Choline Chloride,
Flaxseed,
Potassium Chloride,
Taurine,
Citric Acid (preservative),
Mixed Tocopherols (preservative),
Rosemary Extract.
6. Canidae Grain Free Pure Dry Dog Food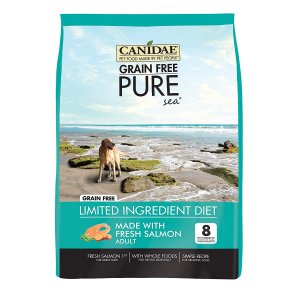 Canidae Grain-free Pure Dry Food for adult dogs is based on the real salmon as its first ingredient. Salmon is known for being one of the most nutritious fish, both for animals and people. It's a high-protein fish full of healthy acids and loaded with vitamins B and other essential minerals.
It's the same when it comes to menhaden fish, which is the second ingredient in this natural recipe. It's highly digestible and improves the skin and coat condition. Your dog's coat will look more shiny and silky.
Canidae is perfect for canines with sensitive tummies and for picky eaters, as it's free from grains, corn, wheat, and soy that are the most common causes for indigestion and food allergies. Fish is mixed with potatoes and peas, which are a great, plant-based carbohydrates source. Moreover, canola oil lowers the bad cholesterol level and contains both Omega-3 and 6 fatty acids.
Also, there are dried fermentation products added to make digesting easier and to multiply the good bacteria in your dog's gut that responsible for a healthy colon and improved immune system. This dry food will provide your dog with all the essential vitamins and minerals, such as iron, zinc, copper, potassium, and vitamins B12, D3, and E.
Choose this grain-free, natural, and complete dry food for your Fido, especially if he has a sensitive stomach.
Key Features
for sensitive stomachs, supports digestive system, immune system, beautiful and healthy skin and coat
no wheat, corn, soy, artificial colors, flavors or preservatives
for all lifestages
crude protein: min. 32%
crude fat: min. 18%
crude fiber: max. 4%
moisture: max. 10$
Ingredients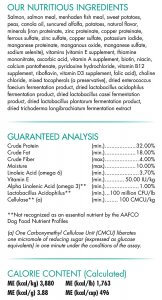 Summary
In conclusion, grain-free dog foods are best for all canines with grains intolerance and sensitive tummies. It's an easy-digestible food, especially when enriched with dry fermentation products and probiotics. When you look for grain-free dog food for your Fido, pay attention to the ingredients. Make sure to products with no fillers, artificial flavors, or by-products. Instead, look for real meat and vegetables high on the lists of ingredients.
The Buyer's Guide
What is grain-free dog food?
Most of the commercially-prepared dog foods contain a variety of grains that may not seem like particularly healthy for your Fido. When you see the list of ingredients, you might notice wheat, barley, corn, oats, rice, rue, or sorghum. Some of the are equally common in the foods prepared for humans, and you probably realize that a lot of people have problems digesting them (or you experience these troubles yourself). Contrary to what many people believe, this is not the case for all dogs, but some may indeed require changes in their diets. That's why more and more dog food companies decide to create products for sensitive stomachs. Grain-free dog food won't contain any of the grains that may cause food allergies or other digestive issues.
Should all dogs eat grain-free dog food?
Many people think that grains are bad for all canines. They believe that since grains were absent in canines' wild ancestors' diet, then we still shouldn't incorporate them in our dogs' food. However, a lot has changed since our best friends were first domesticated. Most animals adapt to new situations, and so did canines. A regular dog won't have any problems with digesting wheat or corn these days, and grain-free diet won't benefit him at all.
Still, you need to pay attention, as a lot of dog food companies, especially the cheap ones, rely on grains as cheap fillers, which is not ideal; in most cases of digestive problems in dogs, it's more about the right proportions. There's also a risk that the those used in the chosen foods were genetically-modified, so it's good to look for a GMO-free brand.
However, our furry friends, just like people, can suffer from food allergies and digestive problems. If you notice anything out of the ordinary in your dog's behavior after he's eaten, or in his stools, it may be a good idea to take him for a checkup to your veterinarian. It's always better to consult with a professional before you decide to make any changes.
What should you look for in grain-free dog food?
Unfortunately, even when you know you need to look for a grain-free food, you still have plenty of choices, and you need to stay cautious. Grain-free foods aren't all the same, and you have to find the right one to avoid doing your dog more harm. Our team of experts gathered all the necessary information to provide you with tips on how to choose the best grain-free dog food on the market:
Look for as much real meat as possible. Don't settle for fillers or even by-products. Dogs need a lot of meat to stay healthy and active, and this meat needs to be of high-quality to provide your furry best friend with all the necessary nutrients. You want as much fresh (raw) meat as possible, not meat meals. You need to know how much meat exactly you give to your dog, and what type of meat this is. If the list of ingredients states only chicken or beef, it means it's fresh, though some will say it directly. Carcass and by-products (e.g. chicken meal) can still bring some benefits to your dog's diet, but only if they are lower on the list.
Avoid carbohydrates. Canines live on proteins and fat; they don't really need carbs to thrive. You can provide your Fido with some carbohydrates for nourishment but don't look for them in the commercially-prepared food. If you do it yourself, it will be both cheaper and healthier. Carbs to be avoided in grain-free food include rice that is very common, but it's used as a filler, and very often, it can contain arsenic. Better carbohydrate sources are potatoes (especially the sweet) or porridge. Always calculate the proportions of all commercially-prepared foods to make sure that there isn't too much filler.
Know how to recognize window dressing. The first two or three ingredients are what the food really consists of. The rest are just fillers that are added so that the manufacturer can put it on the label, even if there are only traces of it. It may also mean that even though an ingredient sounds tasty and healthy, it may not have been used in the right proportion to make a difference, or a producer used only a part of it (the less healthy part, of course). While choosing the commercially-prepared food, you should only focus on the main ingredients; the rest you can provide yourself.
What are the pros and cons of grain-free dog food?
Grain-free dog food, just like everything else, has its advantages and disadvantages. Since the transition to the new diet can be hard for both you and your dog, it's vital to be absolutely sure that you need to do it, that is, to have your veterinarian's recommendation.
Pros
Grain-free food is easier to digest in general, it's true for both humans and dogs, so it may be best for sensitive tummies.
It's one of the best options for canines with certain health conditions, such as diabetes or cancer. That's because high-quality grain-free foods are lower in carbs, and carbs raise the blood sugar level and can lead to higher blood pressure.
Grain-free food is good for dogs with food allergies, intolerances, and digestive issues. Grains are not bad in general, but they can upset stomachs of some canines that aren't capable of digesting them properly.
It can make your dog happier. When you eliminate the very upsetting and annoying digestive problems, it may turn out that your dog is actually more eager to play and stay active. The high-quality grain-free food is often high in proteins that can provide your furry friend with the energy supplies.
Cons
Grain-free food may not be the best idea for older dogs or those that aren't that active. The abundance of proteins can lead to weight gain if your dog doesn't move around a lot. Limited mobility may be caused by his age, health issues, or the fact that he's already overweight.
Some cheap grain-free dog foods may contain more carbohydrates than those with grains. There are non-grain foods that have more carbs than meat, and they are very often used as fillers for cheaper meals.
It's generally more expensive to keep your dog on a grain-free diet, especially if you aim for high quality and natural ingredients (as you should).
FAQ
Are there any problems with grain-free diets?
Every diet, if it isn't prepared and implemented correctly, can be harmful; this is as true for canines as it is for people.
The most obvious risk seems to be the lack of some necessary nutrients, especially if you decide to cook your dog's meals on your own. That's why it's vital to know what are your dog's individual needs and how you can fulfill them.
There are also dog food companies that don't have your dog's best interest at heart while creating their products. These are very often cheap dog foods that use wrong ingredients, but not only, so you have to educate yourself on the topic to know what you should look for in meals for your dog and what you should avoid at all times.
The most important thing, though, is to always consult with a veterinarian. This is a person who has expert knowledge about animals, plus, they know the individual needs of your dog.
How should I feed a dog with food allergies?
If you suspect that your dog may suffer from a food allergy, the first reasonable step is to take him to the veterinarian, as these can also be symptoms of other health problems. There are also intolerances that are a bit different from allergies and digestive issues unrelated to the type of food or caused by something other than food.
To make the life of a dog with food allergies easier, you need to eliminate the foods that are causing them in the first place. There are also herbs that can ease the symptoms while they last, and they can get your dog through a more difficult period, but you will still need to find the cause.
You need to carefully plan your dog's future diet while observing his reactions, behaviors, and stools, and staying in contact with your veterinarian. It doesn't mean that you have to cook for your Fido yourself, as many people don't have time or the necessary knowledge to do it right, and you can find some really great commercially-prepared foods.
Does grain-free mean carb-free?
If all you want is to lower the carbohydrates in your dog's diet to help him lose weight, grain-free products may not be the best option. A lot of grain-free foods contain even more carbs than regular foods; the only difference is that they're not grain-sourced. Instead, in many grain-free meals, you will find legumes, or potatoes. However, they may be better for your dog's general health, as they may be high in carbs, but they are generally healthier than grains.
How to switch a dog to a new diet?
The most important thing is to do it gradually to avoid upsetting his tummy. Start small – with only 10% of his meal being the new food – and be patient. Stay observant to know how he's reacting to the new food, keep an eye out for diarrhea or constipation, and slowly alter the proportions to give his digestive system some time to adjust. And, of course, make sure that the whole process is monitored by a veterinarian.