This post contains affiliate links, and I will be compensated if you make a purchase after clicking on my links.
Sheba Review: About the Brand
Sheba is a well-known brand produced by Mars Petcare US, a subsidiary of Mars Incorporated. The brand had been pulled out of the market in January 2011, due to economic circumstances, but was reinstated in July 2012. As it made its return, it abandoned the plastic tray packaging and came only in pull-tab cans. However, mid-way through 2014, it began featuring the plastic trays once again in its "Perfect Portion" line.
This move was directed at addressing the challenge of evenly separating the two servings contained in the cans. Thus the Perfect Portion line is slightly more expensive than the canned products. Other than Sheba cat food, other well-known brands produced by Mars Petcare include Whiskas for cats, Pedigree for dogs and Cesar Canine Cuisine. The company headquarters are in Franklin, TN and has over 15 manufacturing facilities spread all over the US.

Overall, the brand is very popular in the cat food industry. This is evident in the many positive reviews of the brand on Sheba's official site and other unbiased sites. It is currently divided into three primary production lines: Perfect Portions Premium Pates, Premium Cuts in Gravy and Premium Pates in Natural Juice, but it also features an assortment of different product in it's Variety Packs.
Perfect Portions Premium Pates consists of eight variant entrées – chicken, chicken and tuna, chicken and liver, beef, turkey, whitefish and tuna, salmon and seafood. Premium Cuts in Gravy comes in nine variant entrees: chicken, chicken and liver, chicken and tuna, turkey, beef, beef, salmon, cod and shrimp, and whitefish and tuna. Featured in the Premium Pates in Natural Juice production line are five entrees: chicken, turkey, mixed grill, tuna, and salmon. Not one of these products is made with grains or corn.
The brand has no records of food recalls on the FDA (Food and Drug Administration) database or online. All of its products have garnered parallel reviews so none of them stands out notably. Below is an overview of three products from the three main production lines.
Top Sheba Cat Food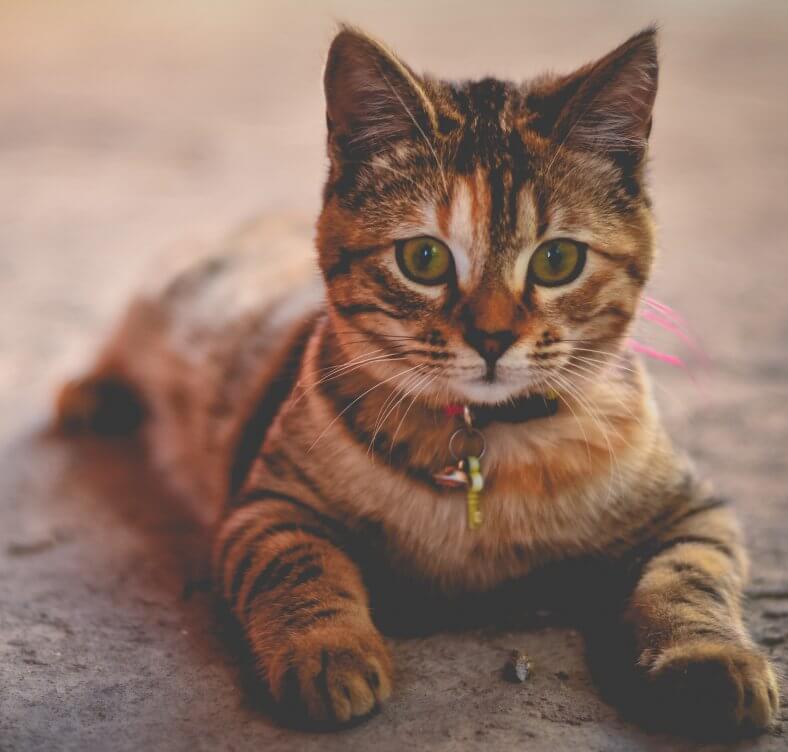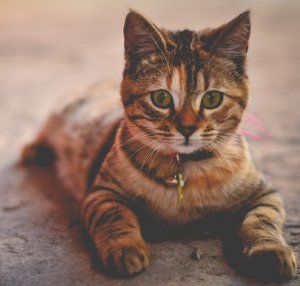 The manufacturers claim this entree lacks none of the nutrients needed for a cat's wholesome well being. The ingredients in this product bring immense health benefits to cats at all life-stages, as they meet all the nutritional requirement of the AAFCO Cat Food Nutrient Profiles.
Key ingredients include beef, beef liver, meat broth, chicken, poultry by-products and meat by-products. Among the nutrients list of the food are; minerals such as iron sulfate, potassium chloride, potassium iodide and calcium carbonate; vitamins such as B1, B6, D3, and E; folic acid and salt. Here's a breakdown of its first 5 ingredients:
Beef
Beef liver
Meat broth
Poultry by-product
Meat byproducts
Being a great source of animal protein and a number of other essential nutrients, beef is a high-grade ingredient. However, since a greater part of this ingredient is made up of moisture, much of it evaporates when fully cooked. The percentage of protein ultimately supplied by the ingredient is therefore minimal, but it still counts toward the great nutritional value present in this product.

It is a well-known fact that insubstantial qualities, liver intake can prove toxic to cats. But cat owner need not be wary of this ingredient, as only a moderate quantity –enough to cater for the cat's nutritional needs– is contained in the product.




Meat Broth: Although it is not as nutritionally beneficial as water – it's alternative, the flavor imbued in its moisture makes it the better option. Unfortunately, the source of the meat is undisclosed, and our guesses are only as good as anybody else's.

This ingredient is obtained from clean, grounded parts of poultry carcasses including bones and beakers. They usually do not contain the meaty poultry parts. But such parts are generally a delight for cats and are also rich in animal protein.

Meat byproducts: This one is of the low-quality ranks. It is made from slaughtered or dead animal parts including kidneys, lungs and brains. The legal status of the practice of recycling parts from dead animals has raised heated debates, but most cat foods producers really don't mind any such disapproval of the act.
2. Sheba Perfect Portions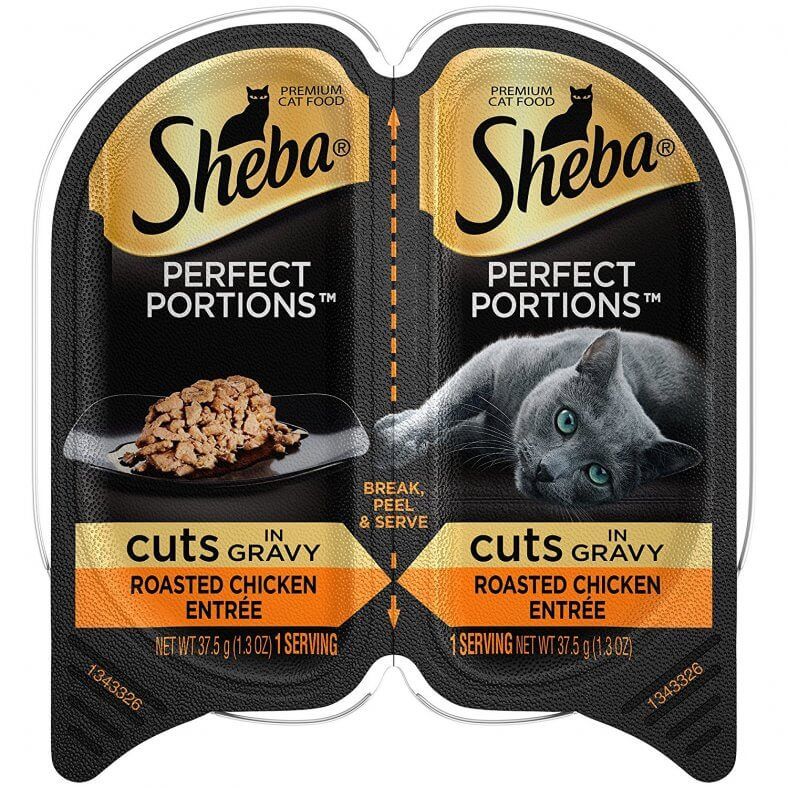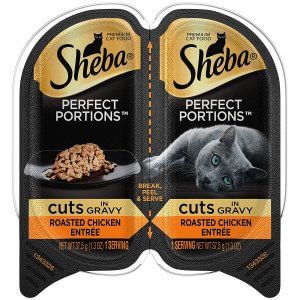 Key ingredients include chicken (livers and broth), whitefish and tuna. The overall nutritional value of this product commands the loyalties of its buyers. But it also has some drawbacks, such as a relatively high carbohydrate content, which is higher than a cat's nutritional need.
It also has a number of featured artificial substances such as food binders. Here's a breakdown of the first 5 ingredients:
Chicken – being a great source of animal protein, this is one of the most common cat food ingredients. Its contents include meat, bones and insides, but it can contain up to 70% of water. As a result, it loses much of its protein as the moisture evaporates when fully cooked
Chicken liver – cat owners are always uneasy about feeding liver to their cats because it's not easily avoidable. Being well aware of the toxicity risks posed by this ingredient, manufacturers walk the fine-line in featuring this ingredient in this product
Chicken broth – this is a better alternative to water as it contains numerous nutrients
Whitefish – fish with relatively lesser fatty contents, such as plaice, hake, cod or pollock
Tuna – one of the best sources of protein

This product's features key ingredients that are highly rich in protein. The following list includes an overview of the key 5 ingredients:
Chicken – contains meat and bones and up of 70% of water. Its protein contents diminish as it loses moisture when fully cooked
Liver (chicken) – toxicity issues make many a cat-owners frown upon this ingredient, but it is generally of high nutrition value. Manufacturers have figured out what quantity of the ingredient was most suitable with a winning formula
Chicken Broth – preferred over water, because it's a great source of protein
Meat Broth – a source of meat remains a mystery for the buyer. It comes with a good nutritional value and an appealing flavor.
Meat byproducts – another sticky point on this product's list of ingredients. Buyers are privy to its nutritional contents, but not to its origins
Final thoughts
All in all, there is no doubt about the impressive nutritional value presented in Sheba foods. They're are free of artificial preservatives, although added color and food binders are regularly featured to the objection of some. But their complete preclusion of grains and corns from their ingredients list has gotten nods from many-a-buyer.
The shady character of their meat by-products has been overlooked by most, though some cat-owners who's cats have special health needs may completely avoid any products with such ingredients. If you're one of those then your budget for cat food should aim for the products on the high-end of the scale.
Frequently Asked Questions
Overall, is Sheba a good choice? Sheba cat food isn't flawless, but it's one of the best budget brands on the market. Sheba foods are free of artificial flavors and preservatives and, unlike some foods that rely exclusively on meat by-products, contain a mix of by-products and clearly-specified muscle meats.
Sheba (cat food) Sheba is a brand of canned cat food produced by Mars, Incorporated. In January 2011, Mars Petcare US announced that Sheba would be discontinued and thus will no longer be available for purchase in the United States. … In mid-2014, Sheba once again returned to plastic trays with its Perfect Portions line.
Feed adult cats 3 servings per 5 pounds of body weight twice daily. Feed pregnant and nursing cats 2 to 3 times their normal amount. Feed a kitten up to 5 servings twice daily.
On average,
Fancy Feast wet cat food
recipes contain 10.05% more protein than Sheba recipes. Clearly, there is a significant difference between the protein content of Sheba and Fancy Feast.
Please check the ingredients of individual products to find out the details about taurine.
Store the airtight container in the refrigerator for up to 5 days. Put the airtight container into the refrigerator. Ideally, it should be kept at 40 °F (4 °C) in the refrigerator. Throw out the food if you have not used it within 5 days.